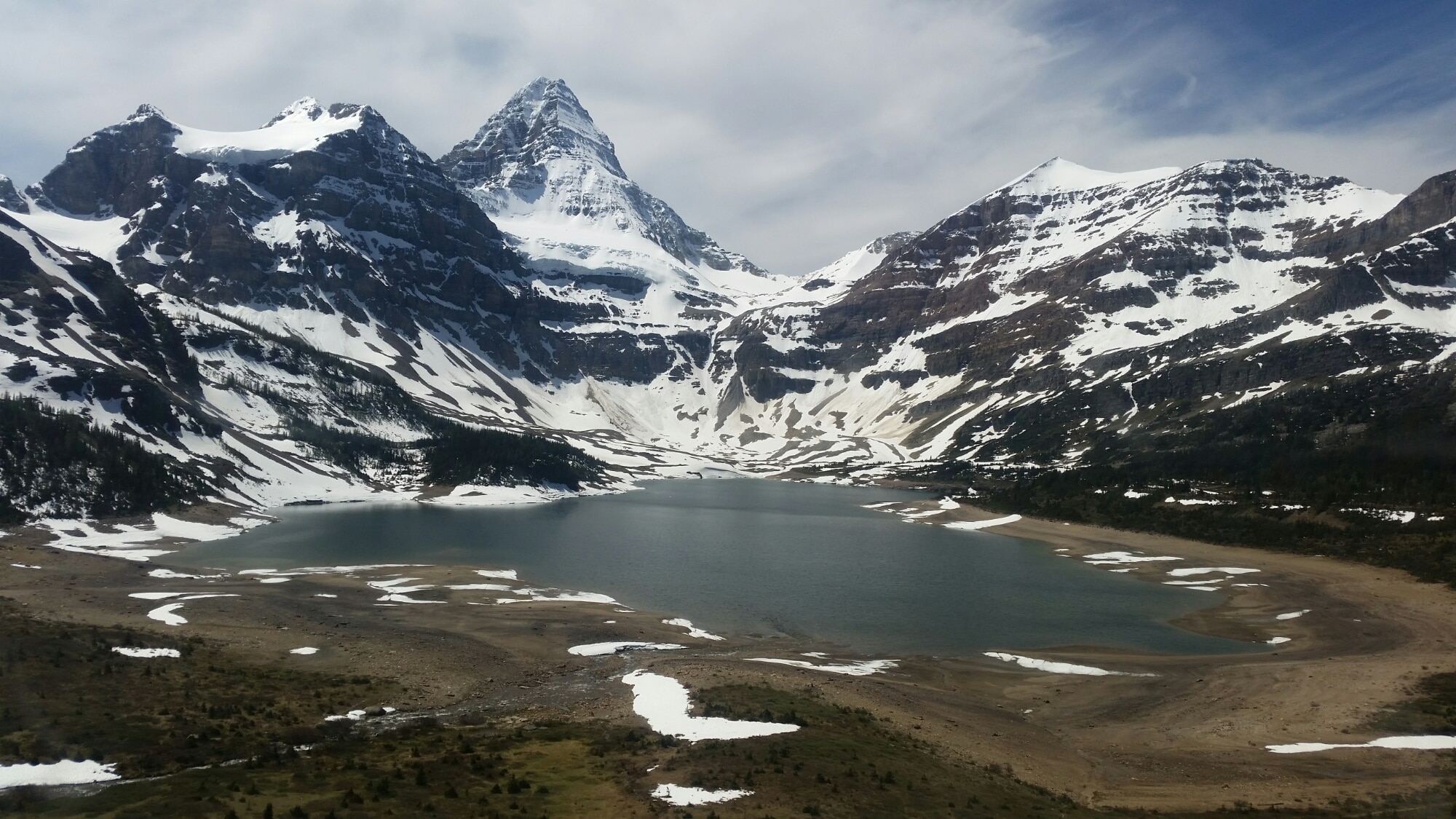 There it is, that tall peak at the back there overlooking the lake. Mount Assiniboine.
It started last Wednesday, I drove with Andre up to Canmore, back east, the way I had previously traveled past Banff. I met Claude, co-owner of the lodge whilst dropping off $3,000 worth of beer and cider to the store room. We had lunch and headed to a hotel which was managed by Andre's sister and I scored a very fancy wooden lodge style room to myself. Spent the night watching the hockey game at the pub and headed off for an early night. In the morning we went downstairs for breakfast and I met a few of Andre's acquaintances, friends, colleague and then took the truck to pick up some food for the next couple of days while Andre and Claude went to Banff for some business.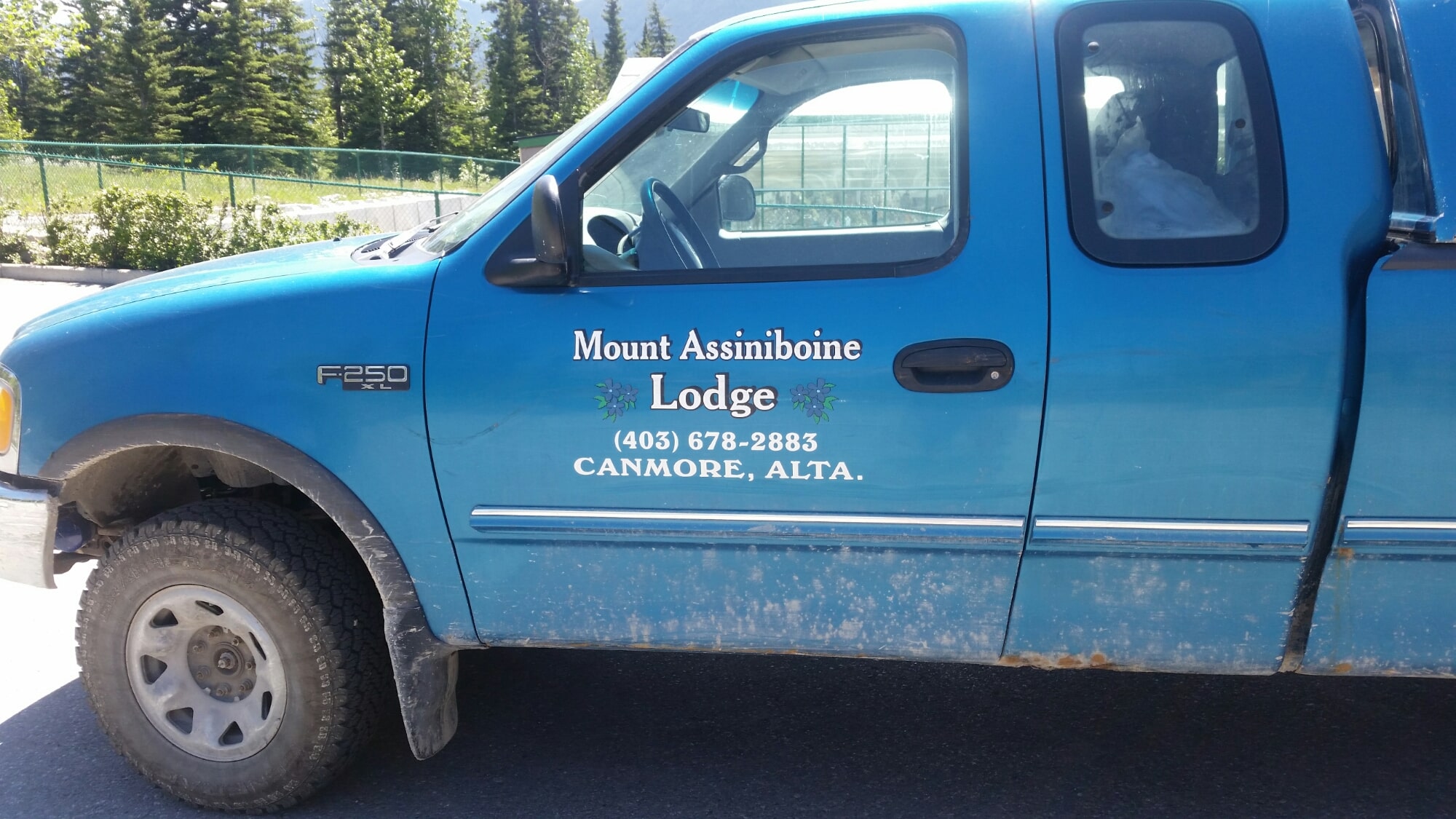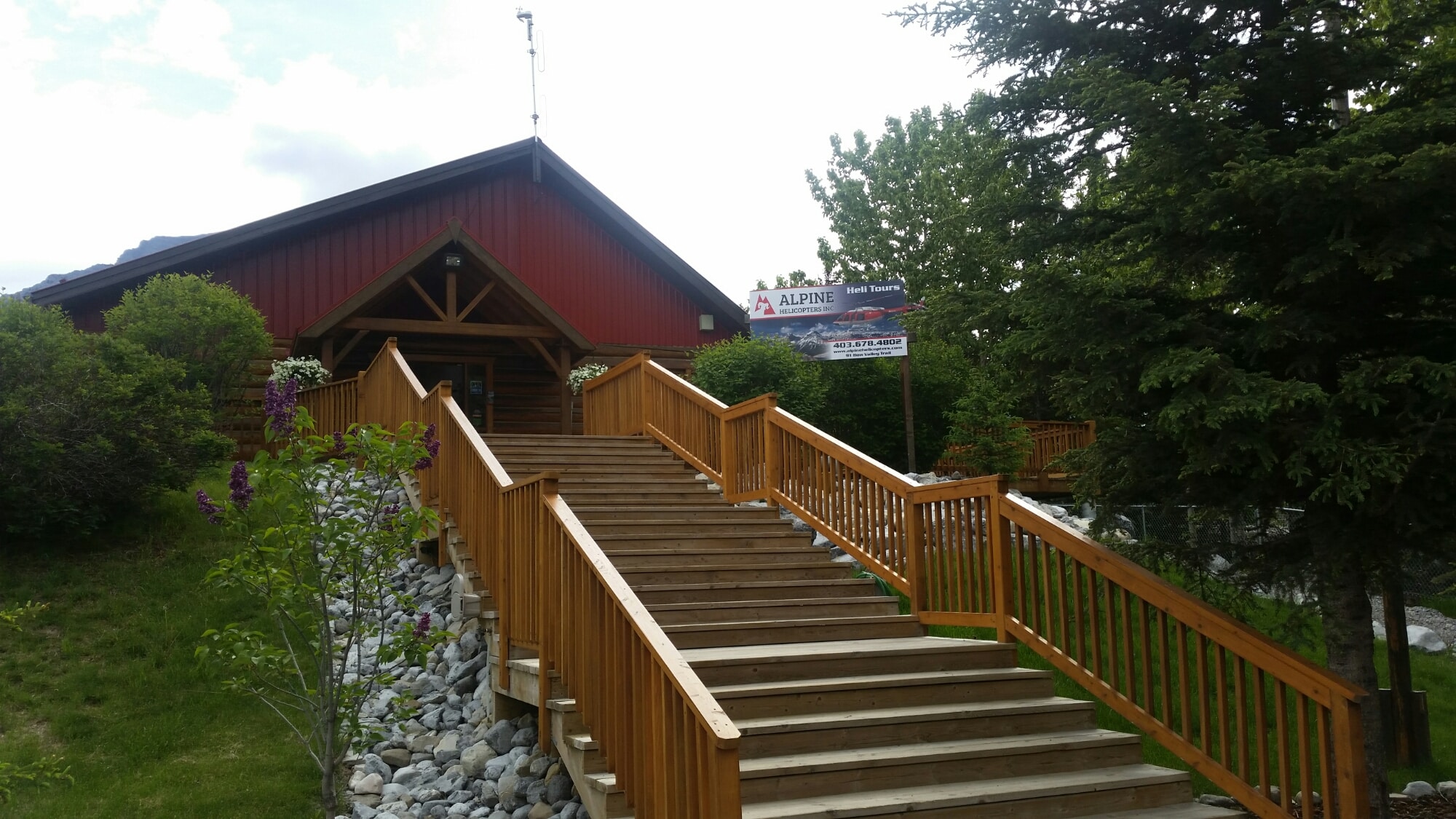 We met at the Alpine Helicopter Tours where we loaded construction supplies onto a helicopter, seeing as only myself and Andre were flying in, I was offered the front seat.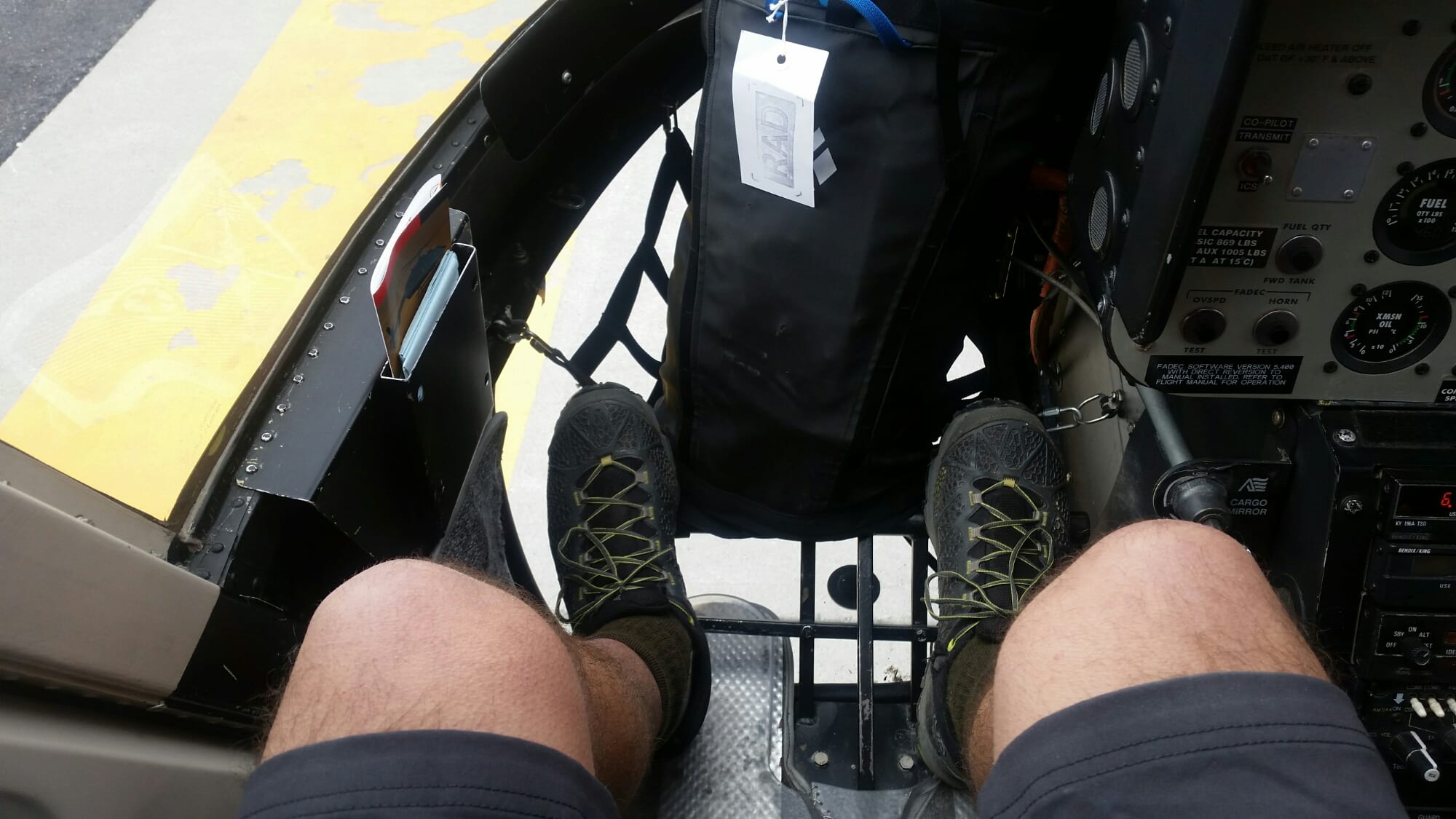 Our pilot Megan's bag and my feet.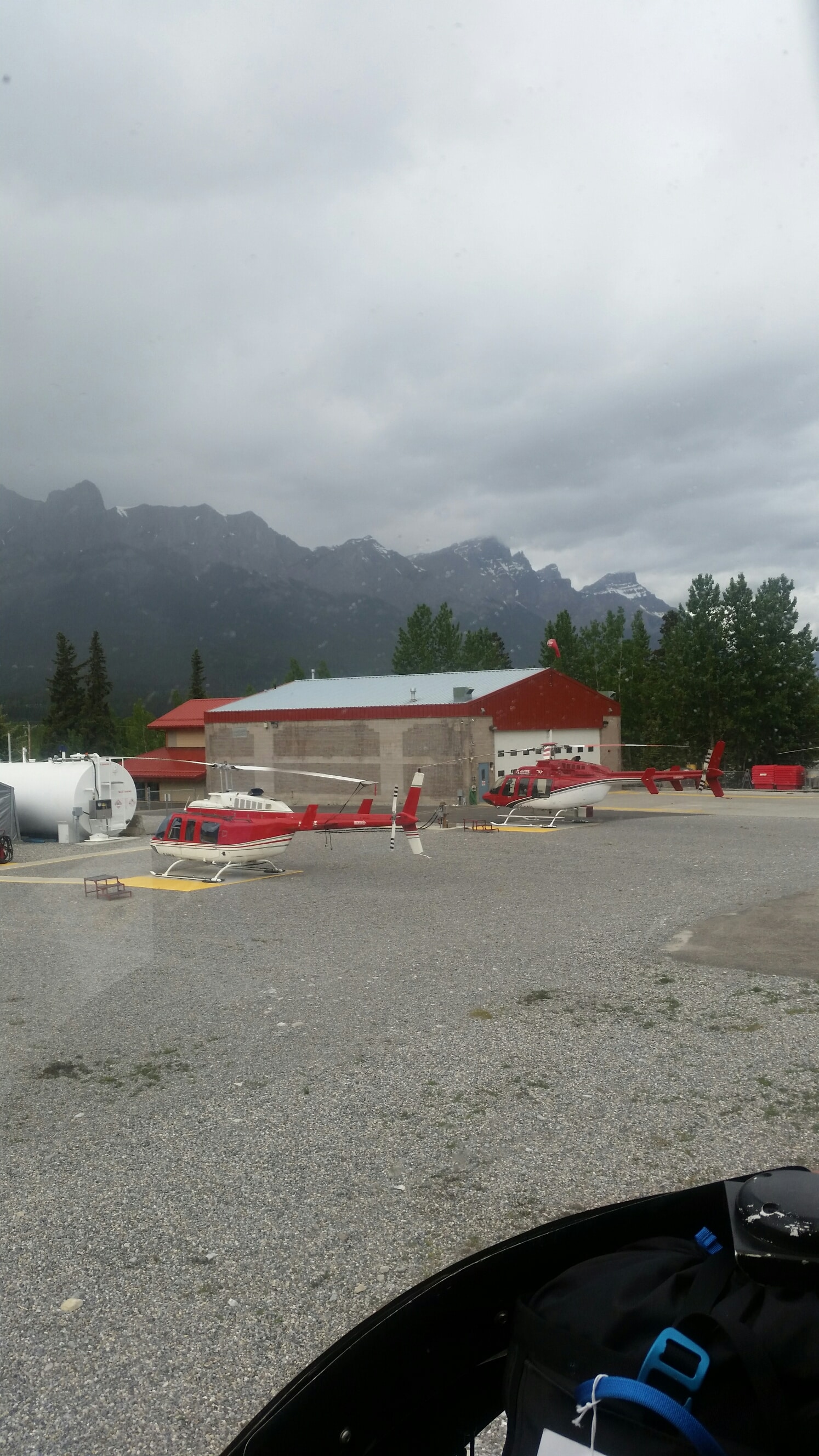 There other choppers, sightseeing mostly but the one on the right has a storage cage, just like the one I am sitting in.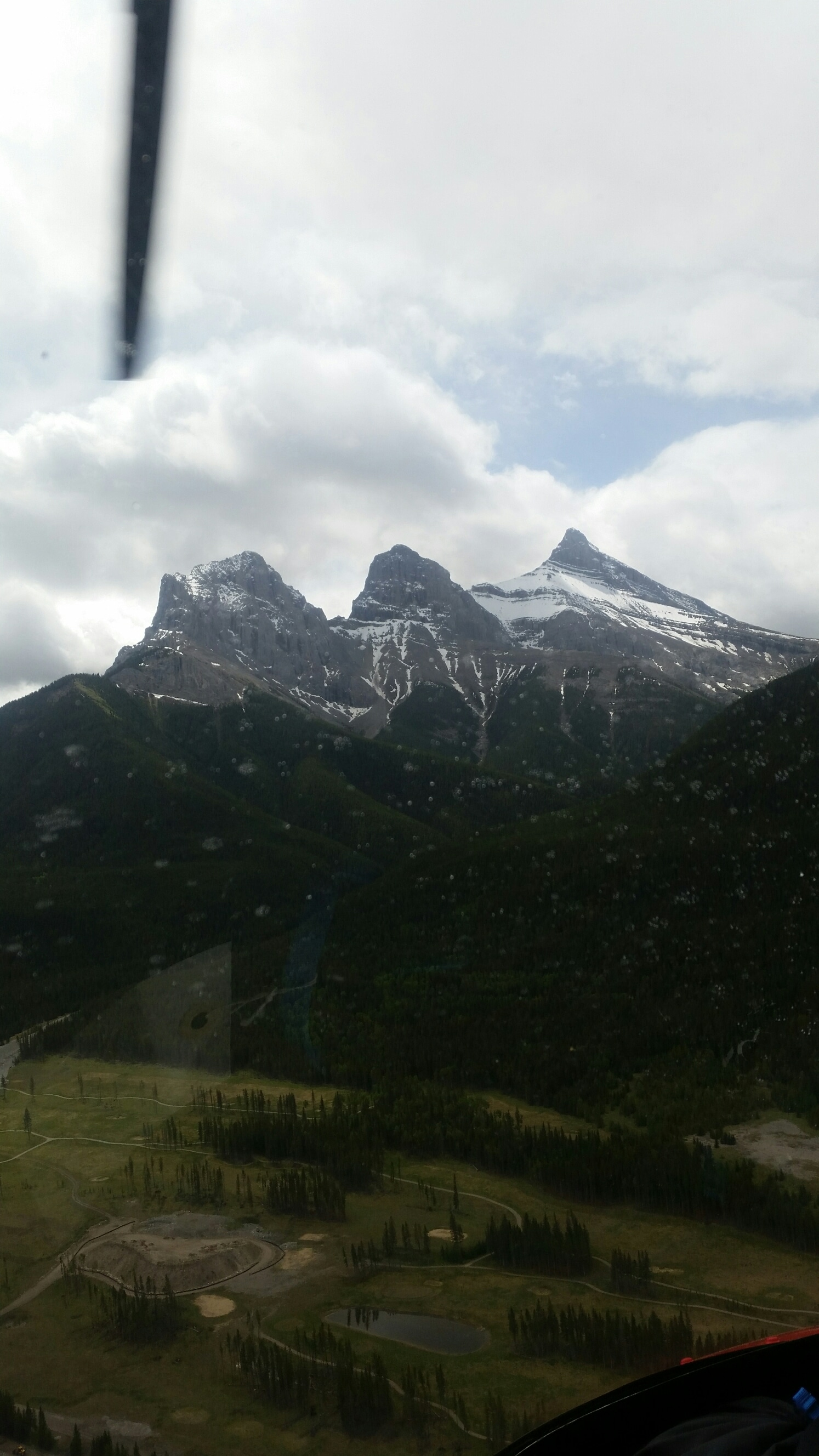 The Three Sisters…makes ours look a little small.
It was rainy and a pretty bumpy ride. Awesome and terrifying at the same time, I had one hand taking photos and the other gripping the stuffing out of the seat.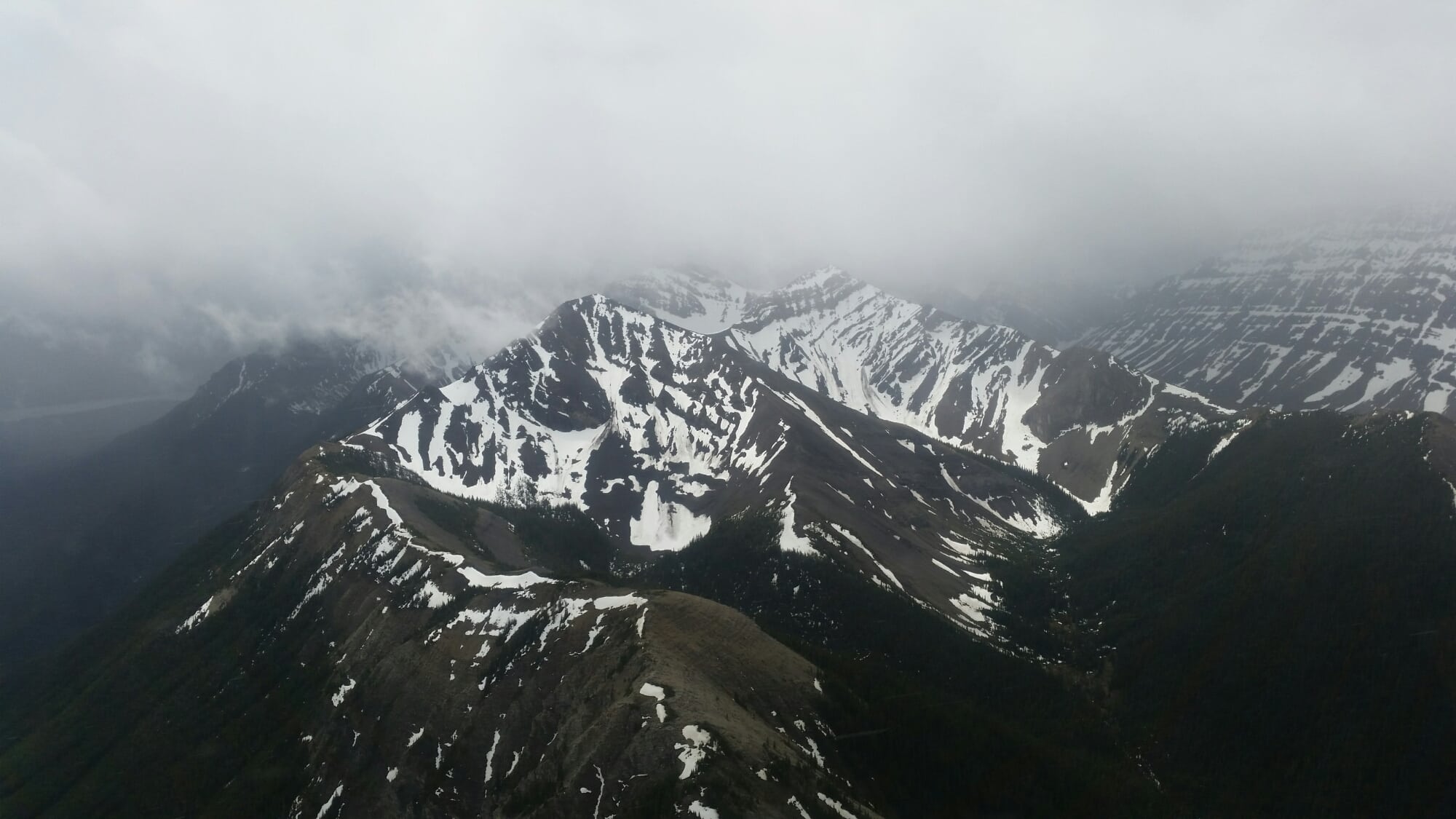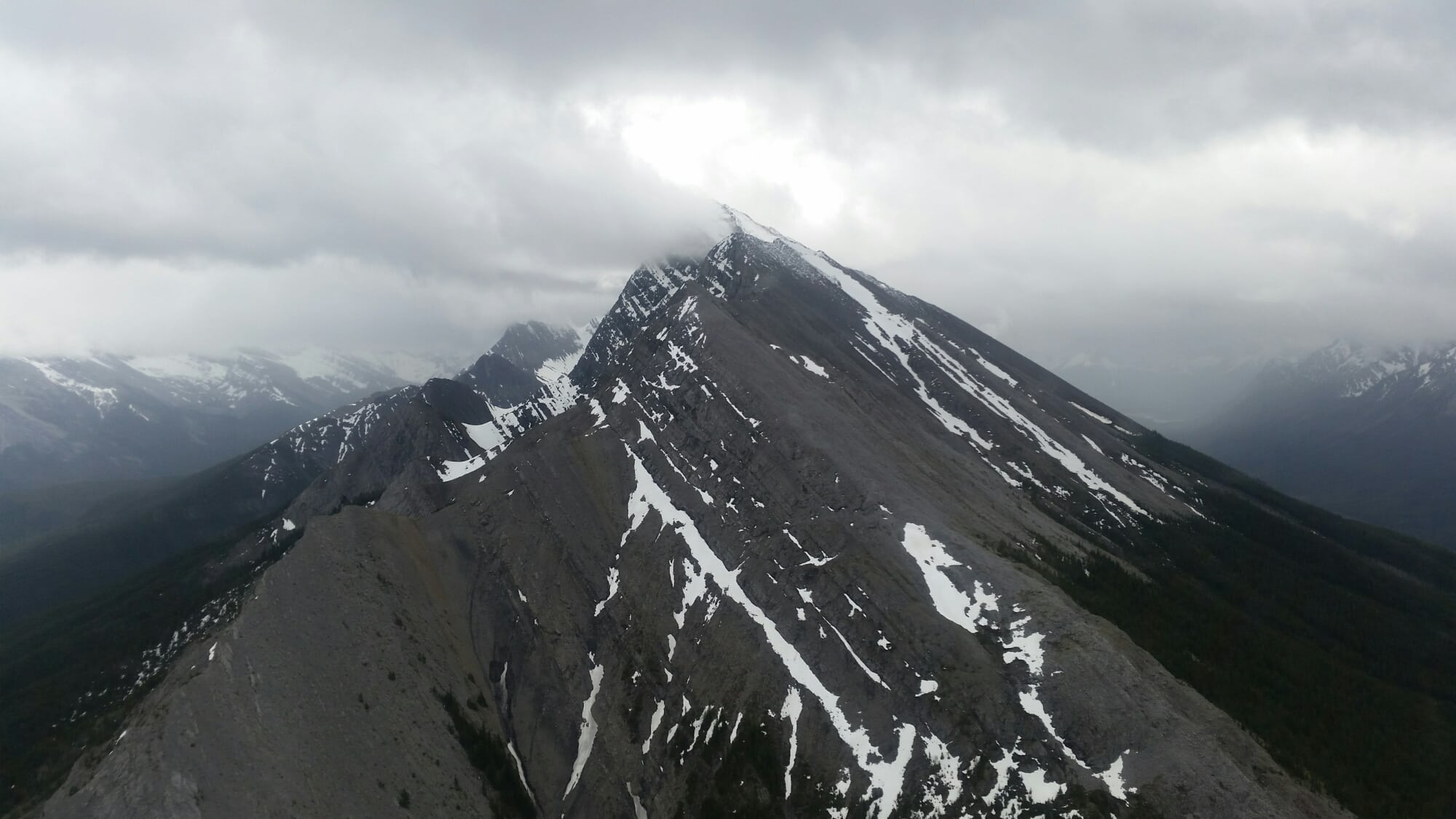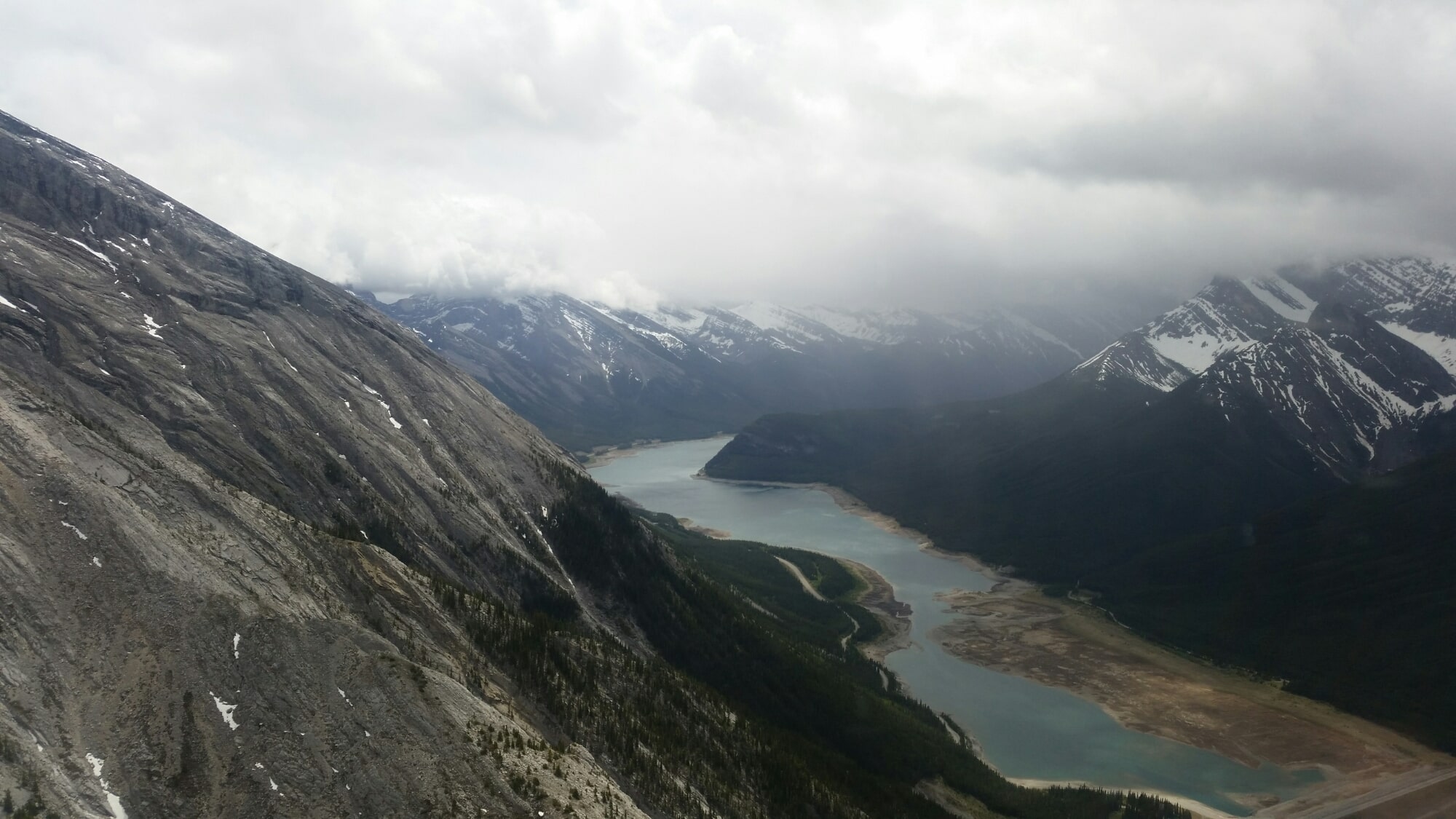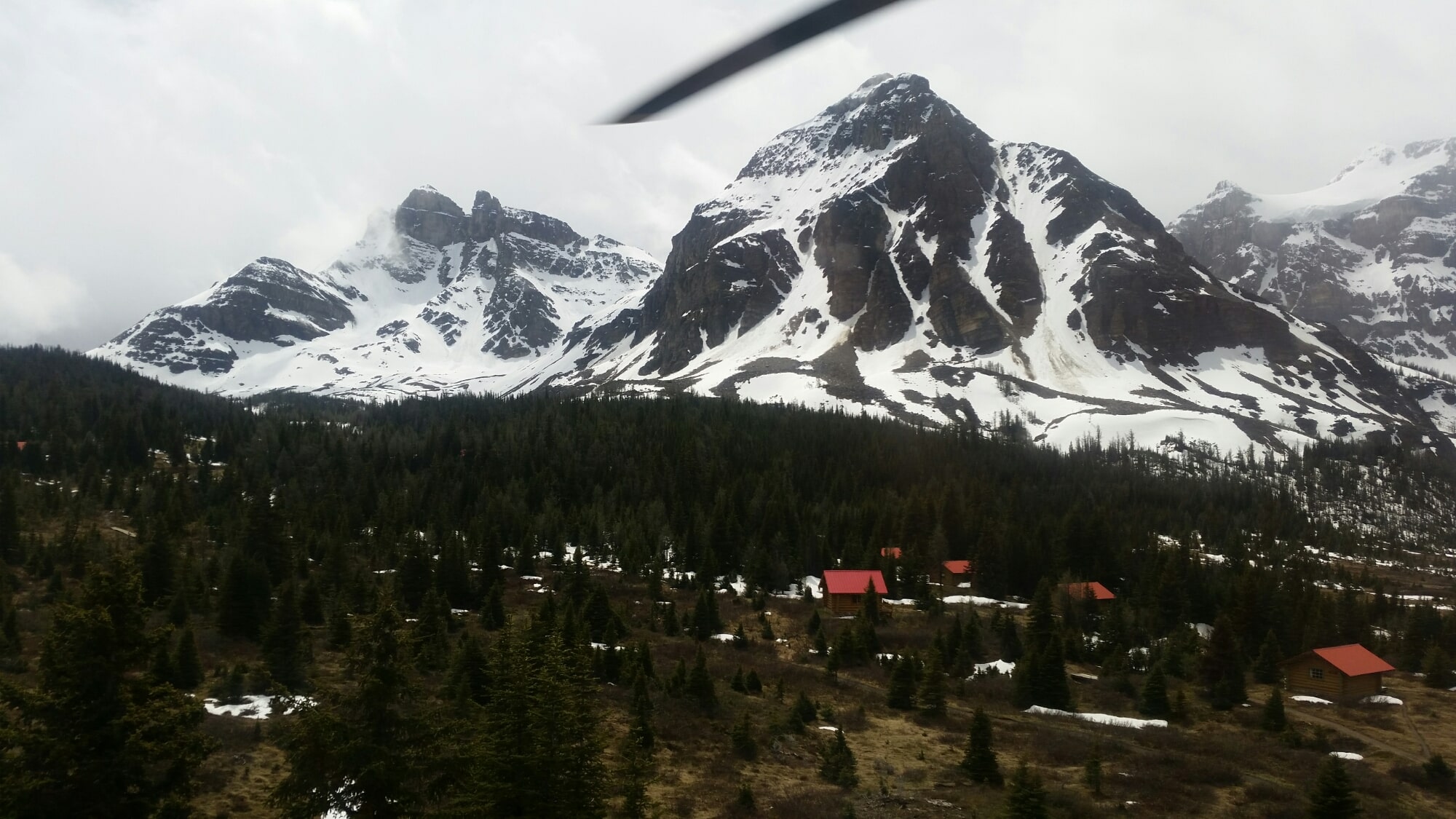 After 15mins of bouncing and falling in the chopper we caught sight of the lodge and cabins. Landing safely, we unloaded all the gear and held it down while Megan took off and left the two of us out in the wilderness.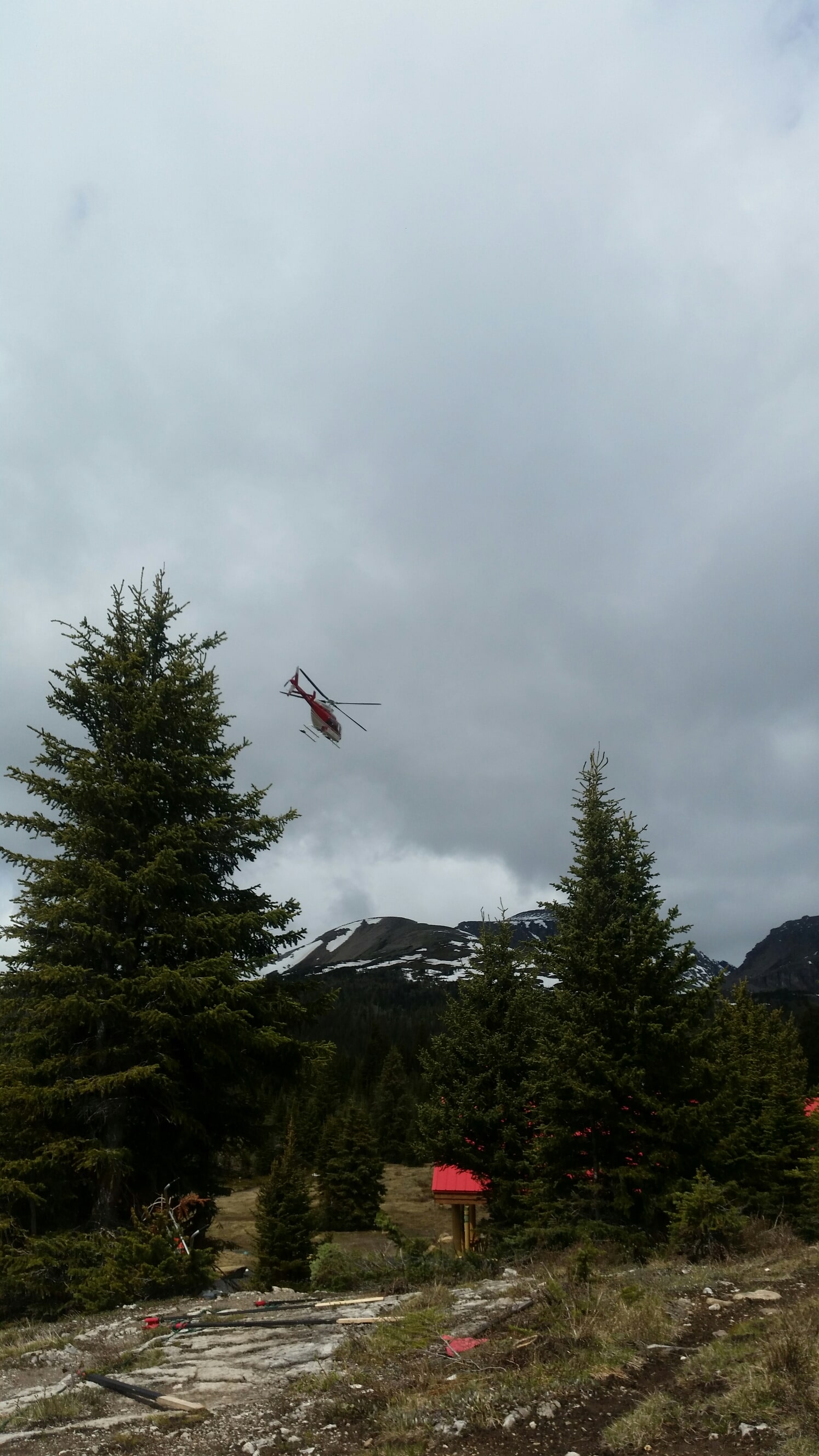 Bye Megan!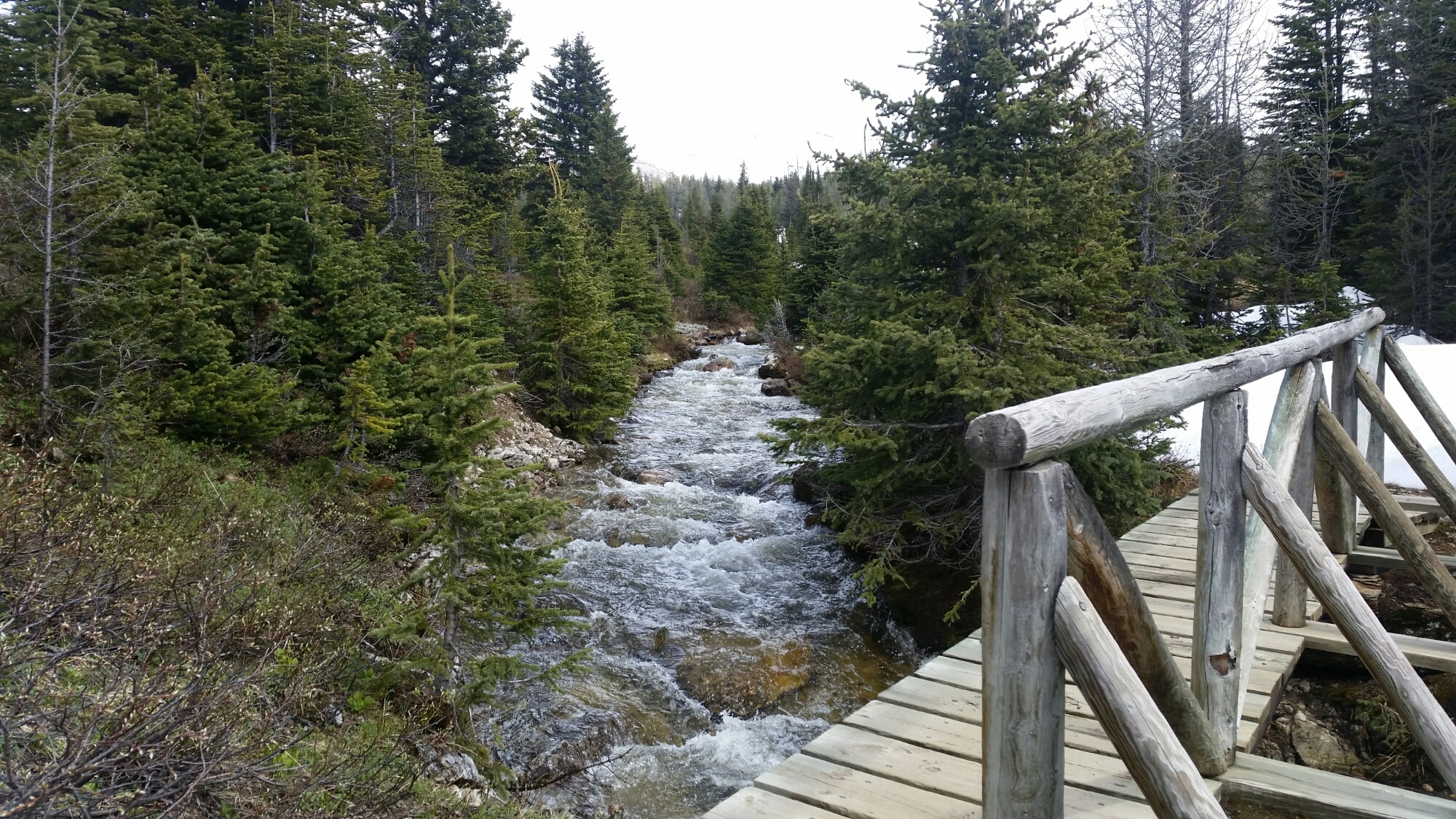 We settled into the lodge, got the power going (hydro) and water flowing and stocked the fridge. Then headed over this little bridge to begin deconstruction of Jonesy's cabin.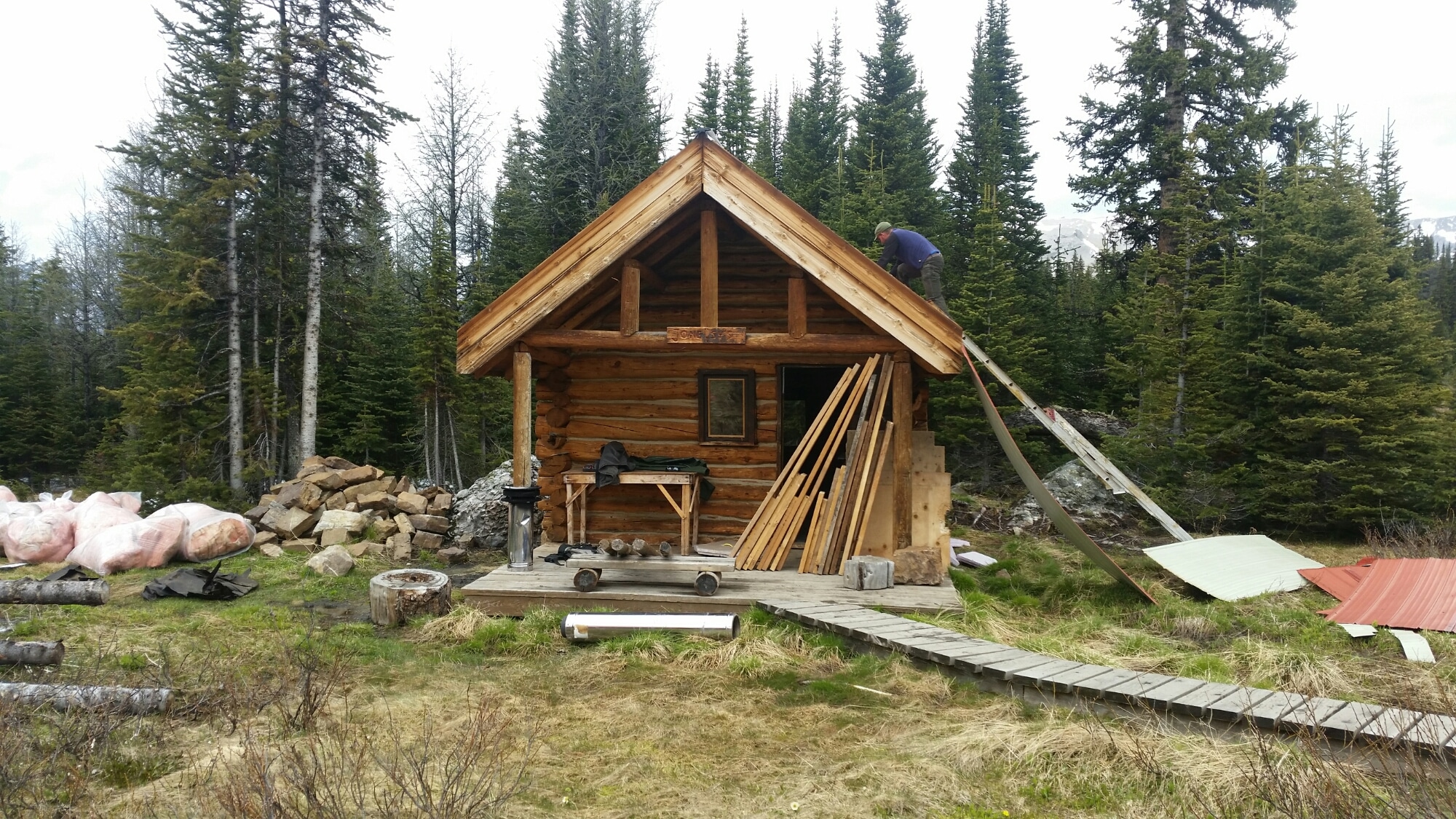 Andre began dismantling the roof, and I tore apart 2 bunks inside. There is something satisfying about taking a hammer to a wooden bunk with the intent of destruction.
Well as you can see, I didn't bust the wood, it could be reused.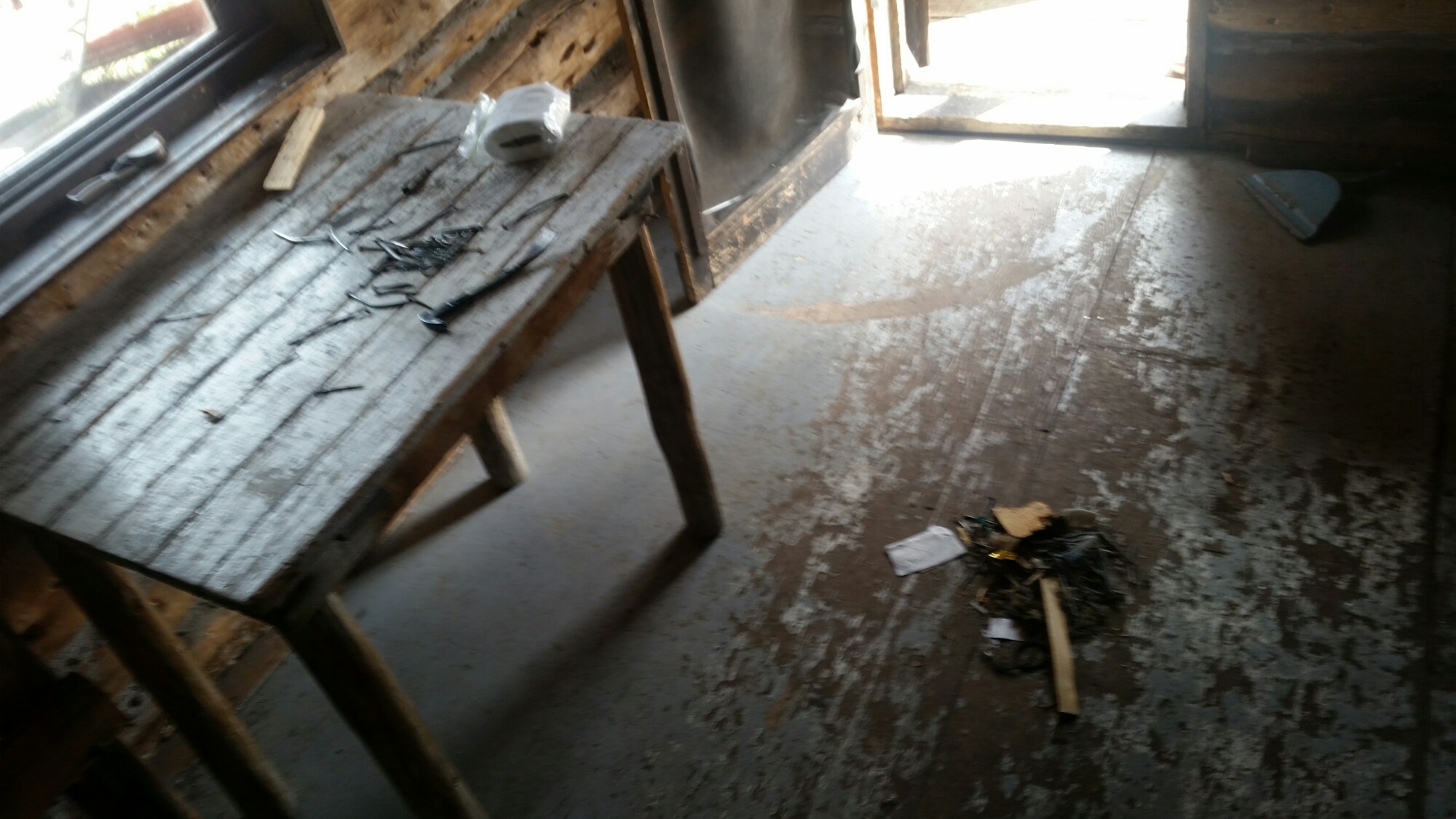 Lots of nails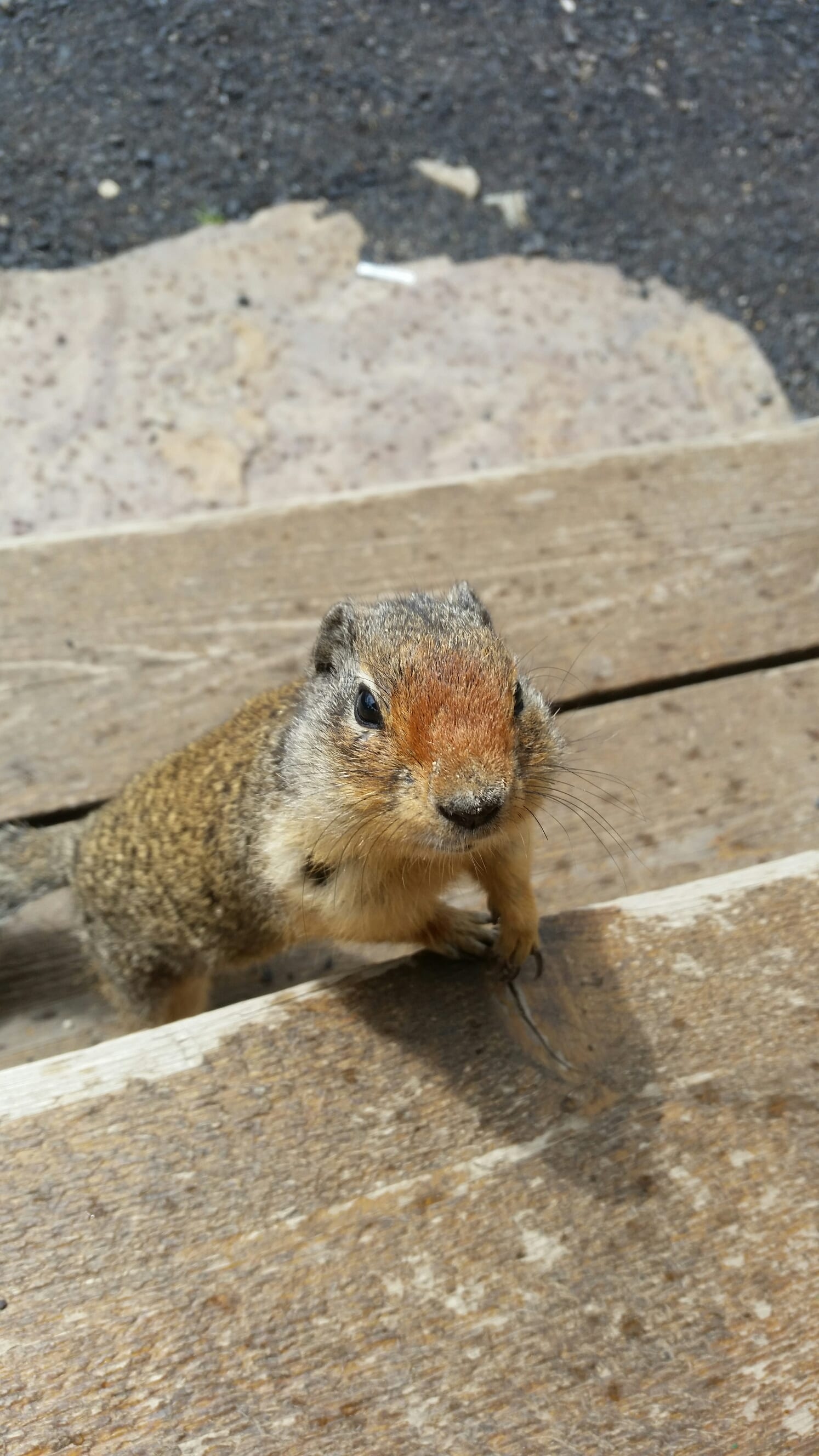 These little buggers again, I swear I am not feeding them.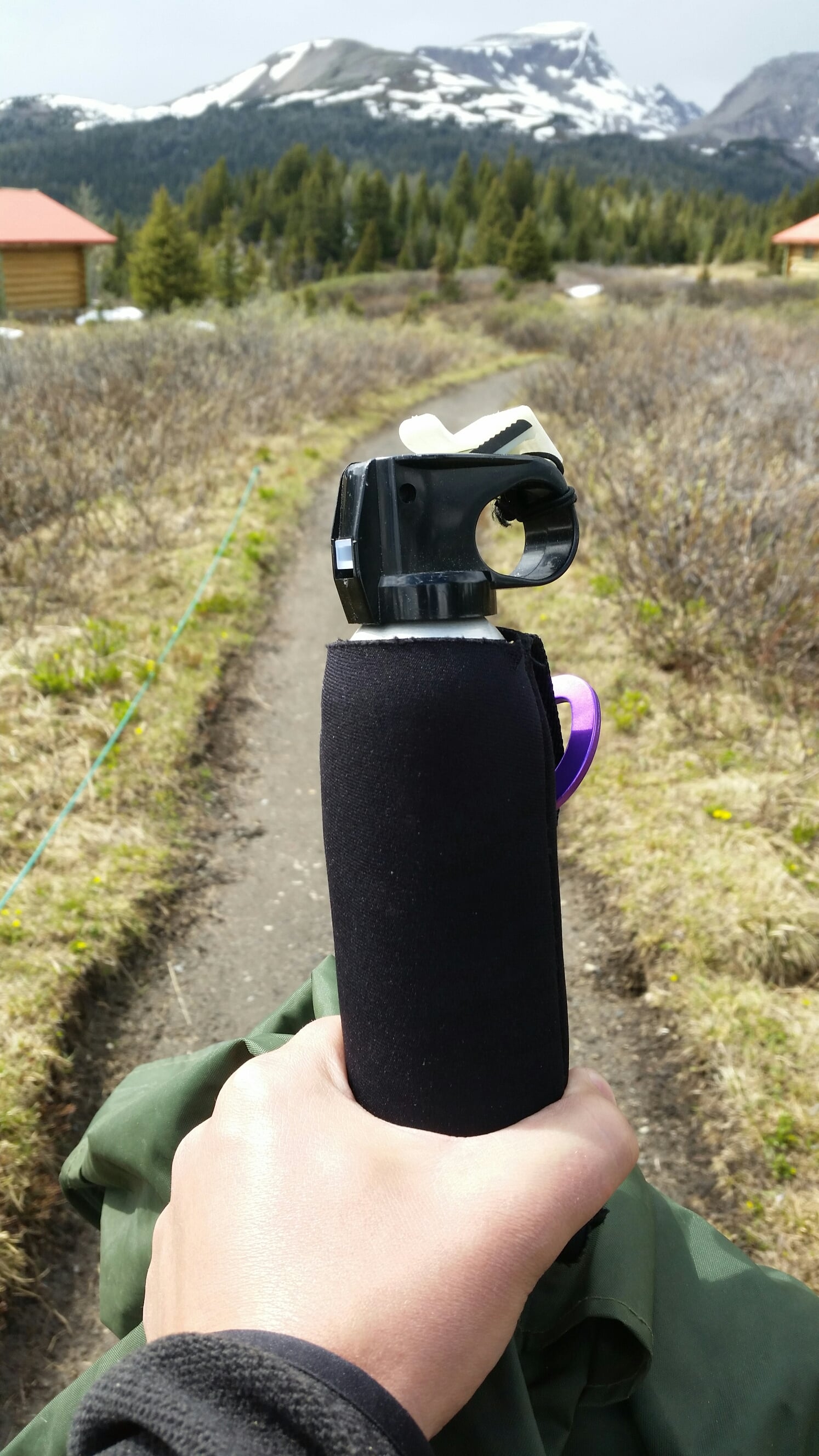 After some effort at the cabin Andre let me head off to explore. Armed with some bear spray I headed off through some hail to go up The Nub, a smaller hill with a nice view of the area and hopefully see me a bear!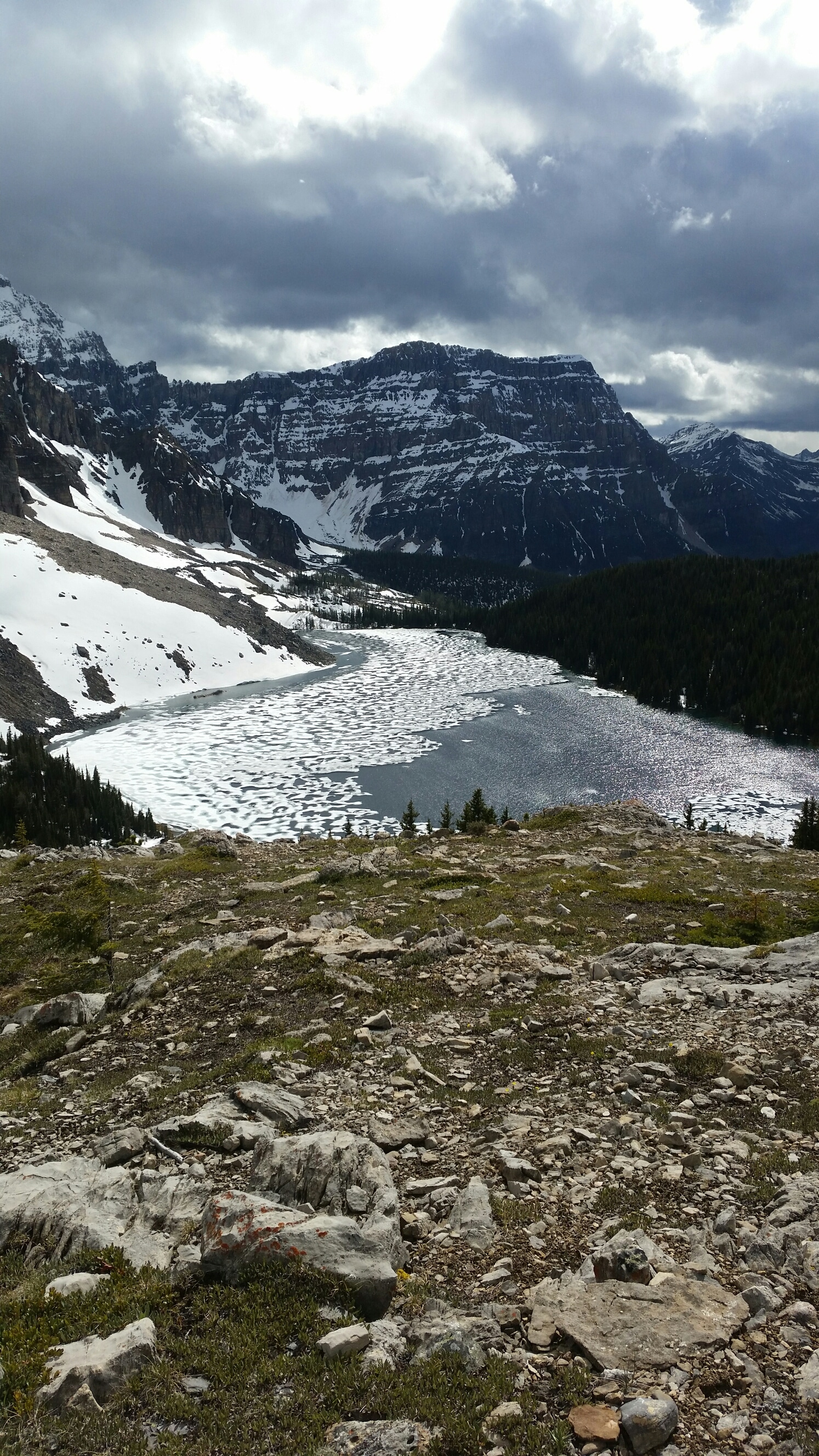 After view over the other side of The Nub, iceberg filled lake and amazing mountains.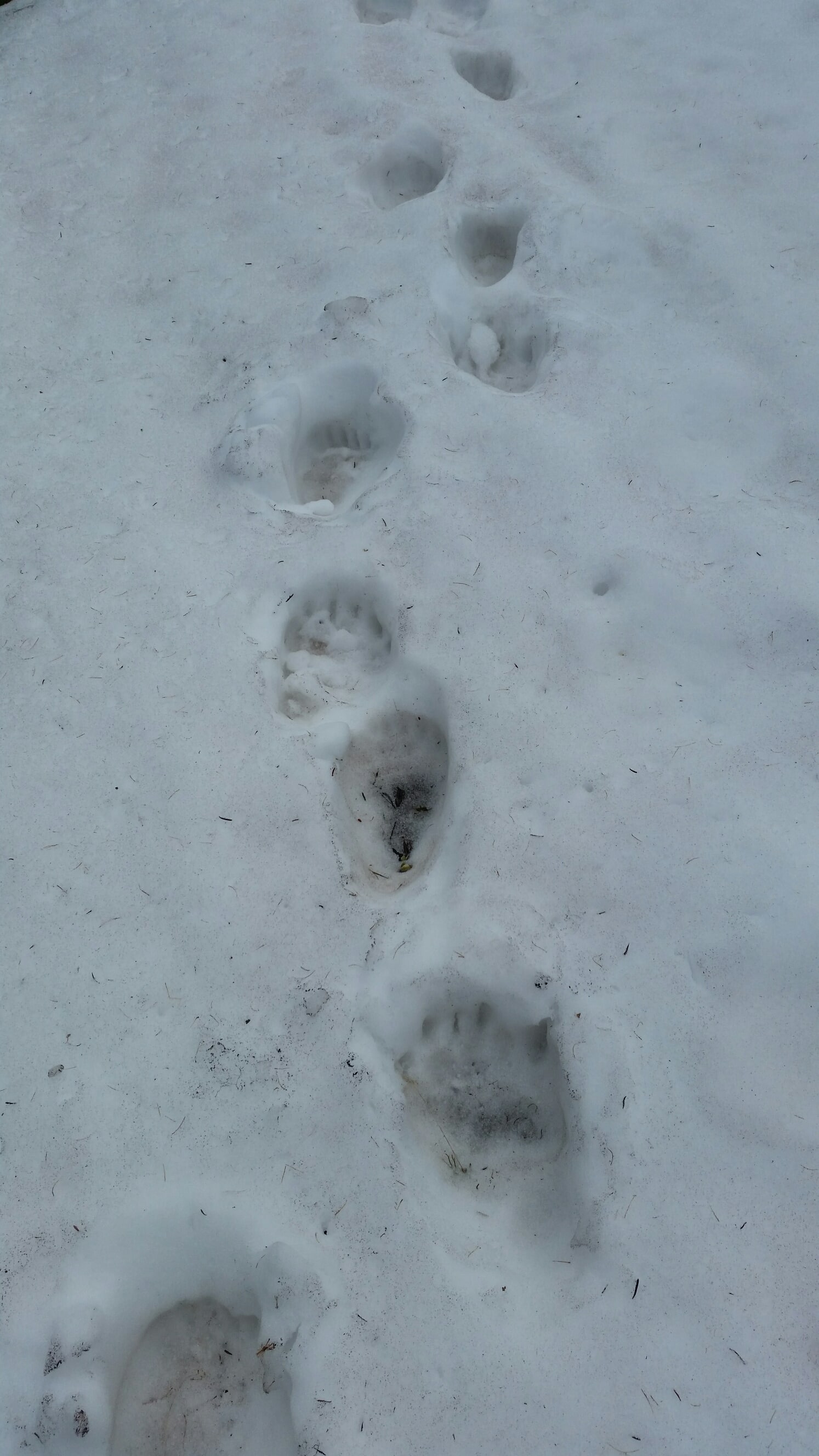 I missed the bear by moments! I was so close! Fresh prints!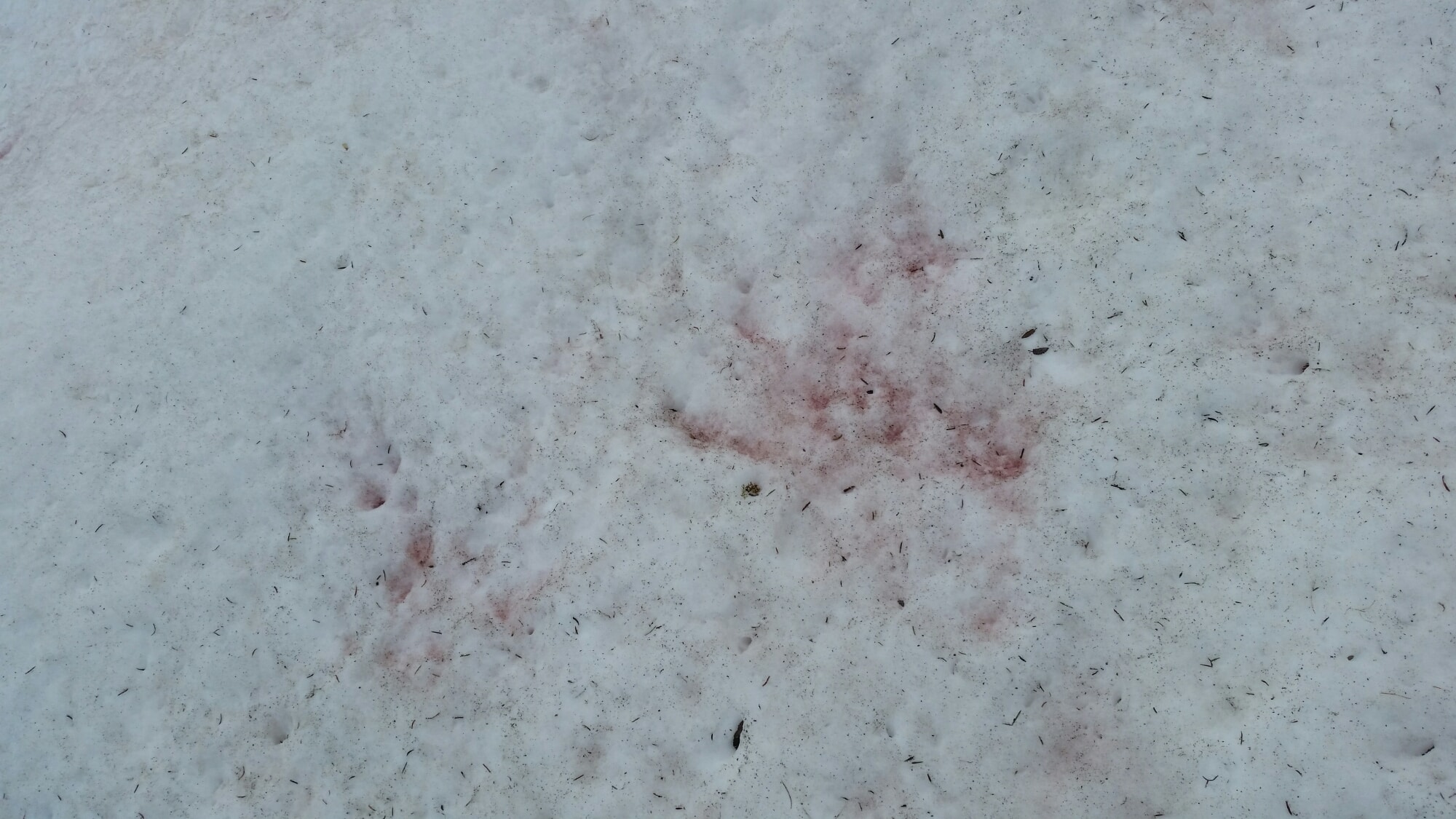 Aaaahh, it got me! Took my arm off!… nah not really, that's snow algae.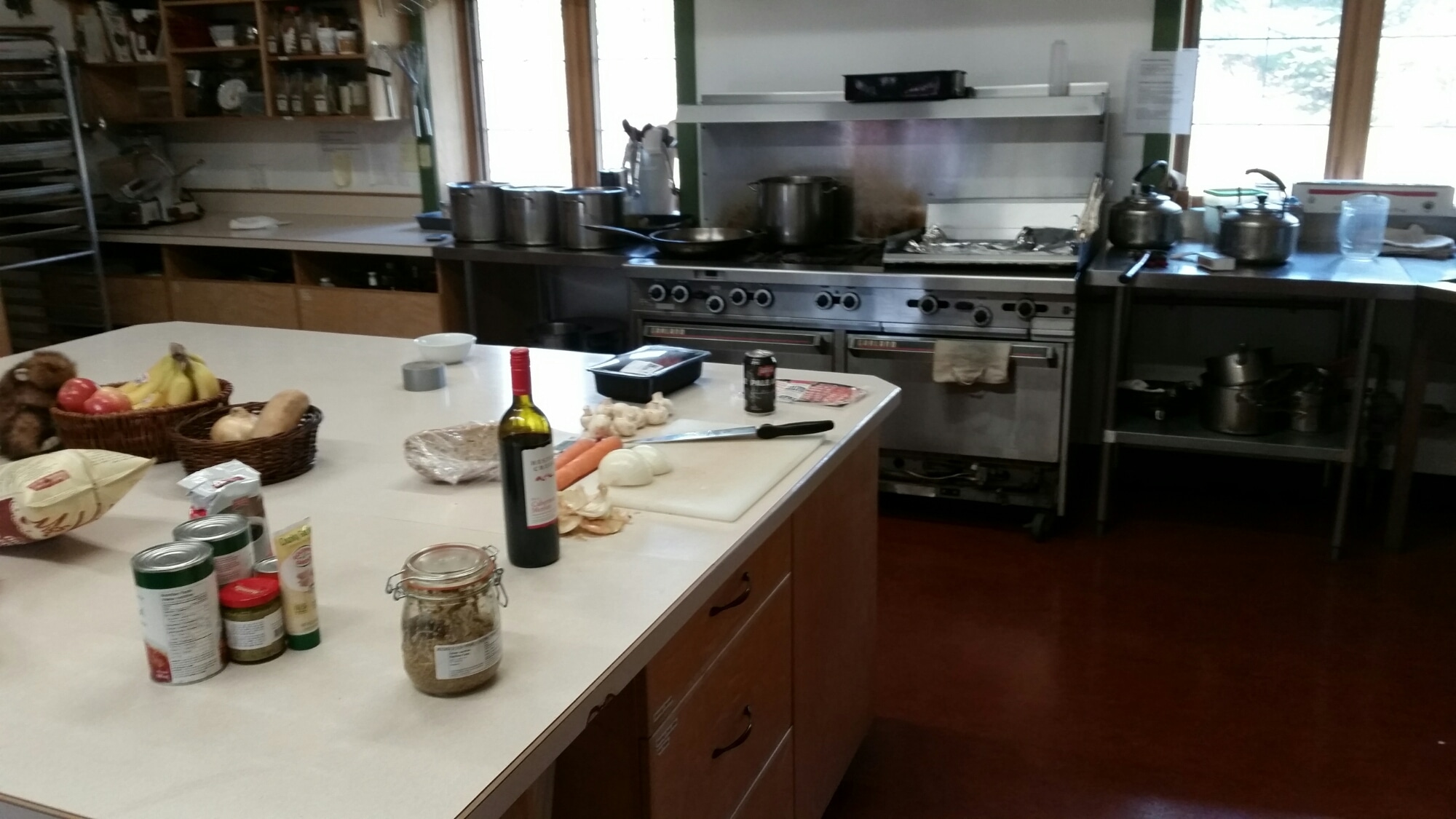 Disappointed that I am still yet to see a bear, time to cook dinner. During peak season this kitchen has to feed lots of people.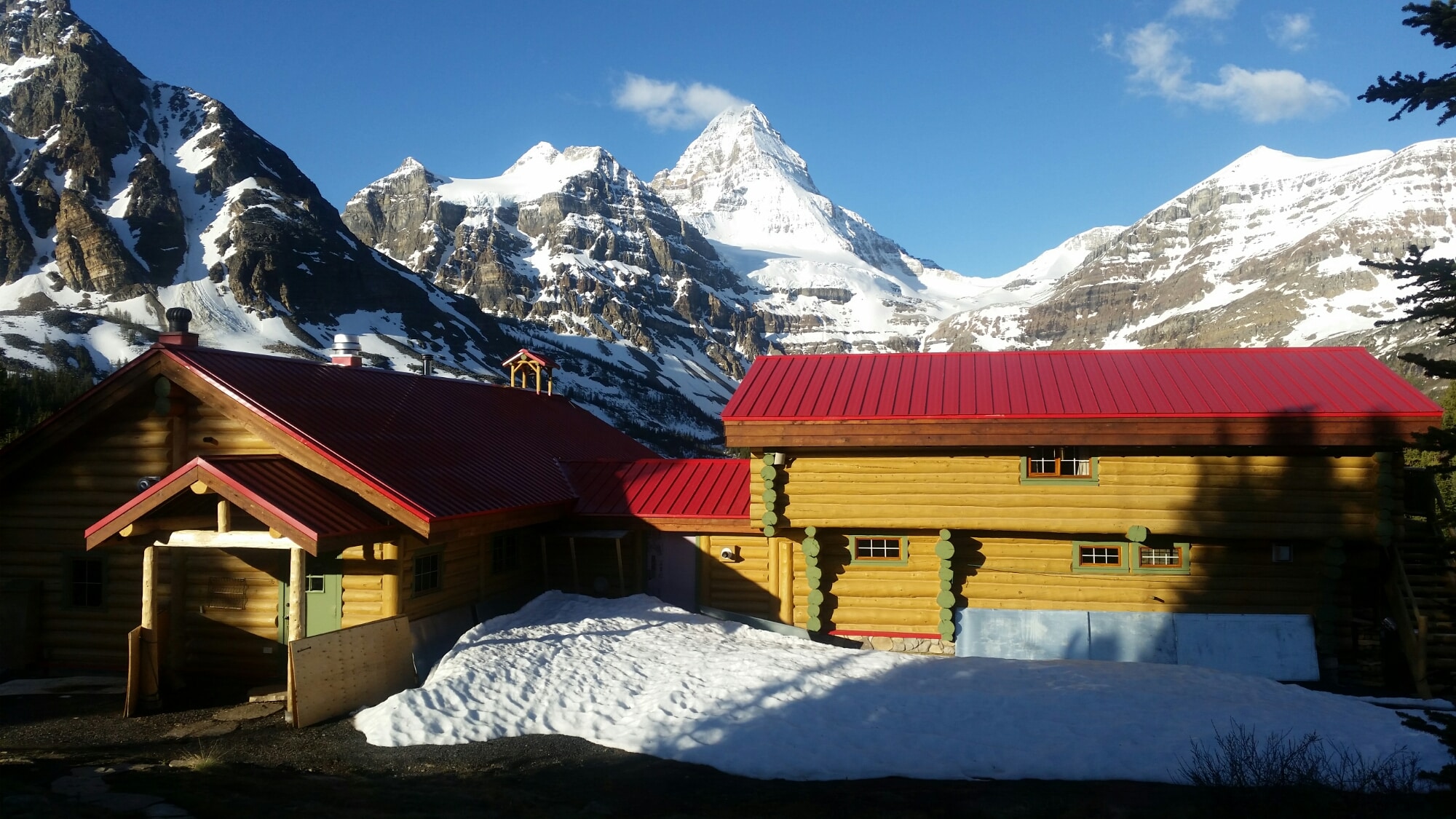 Good morning Lodge, beautiful day…I might go for a hike.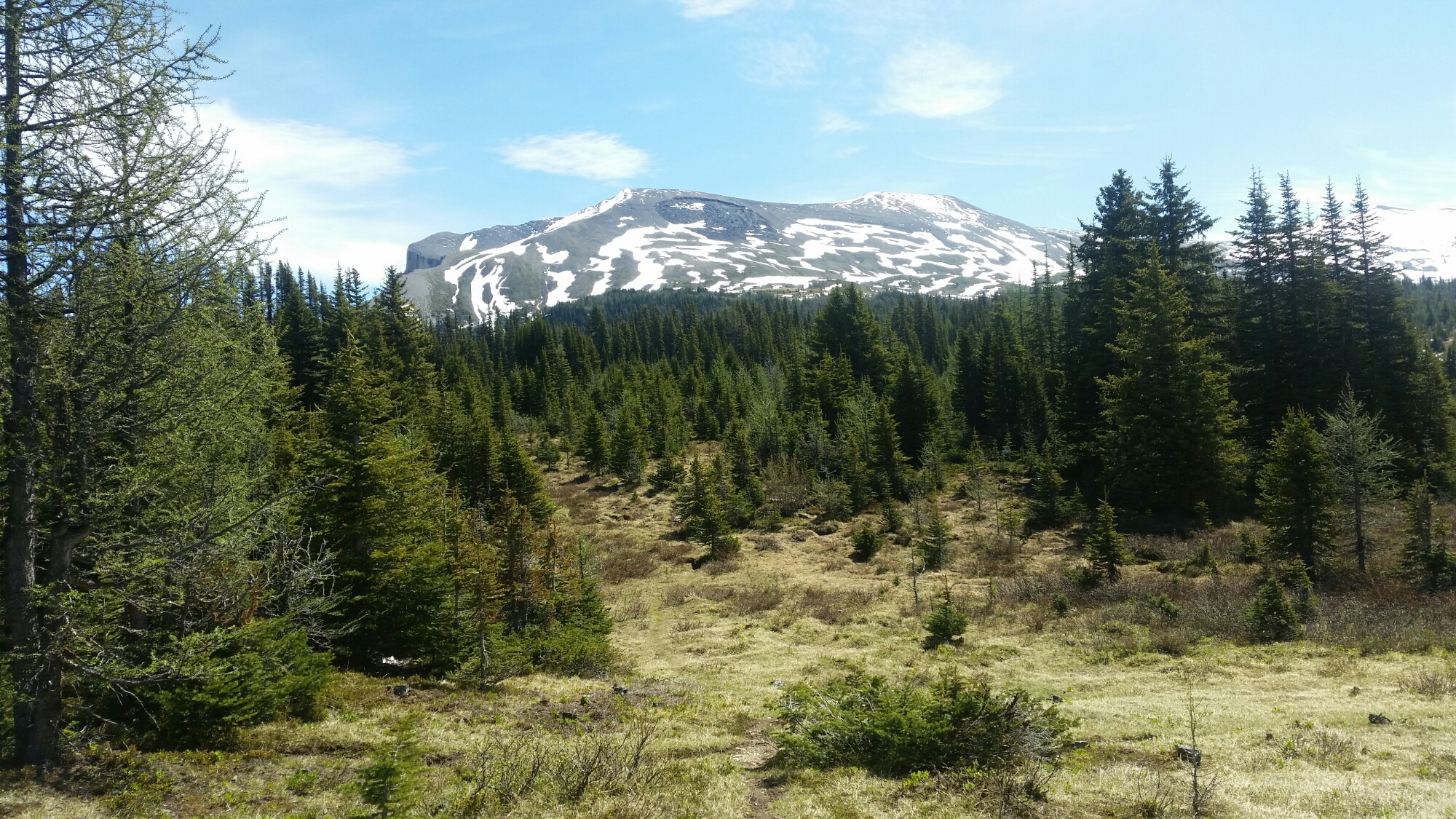 Target acquired, Mt. Cautley. 3hrs up, 2hrs down. Short peak on the left, highest peak on the right. Boots, check. Gaters, check. Windproof jacket, check. Bananas, oh yeah check. Let's go.
It started off easy enough, through some damp meadows where snow had melted. It began to get tricky when patches of snow turned into only small patches of clearing.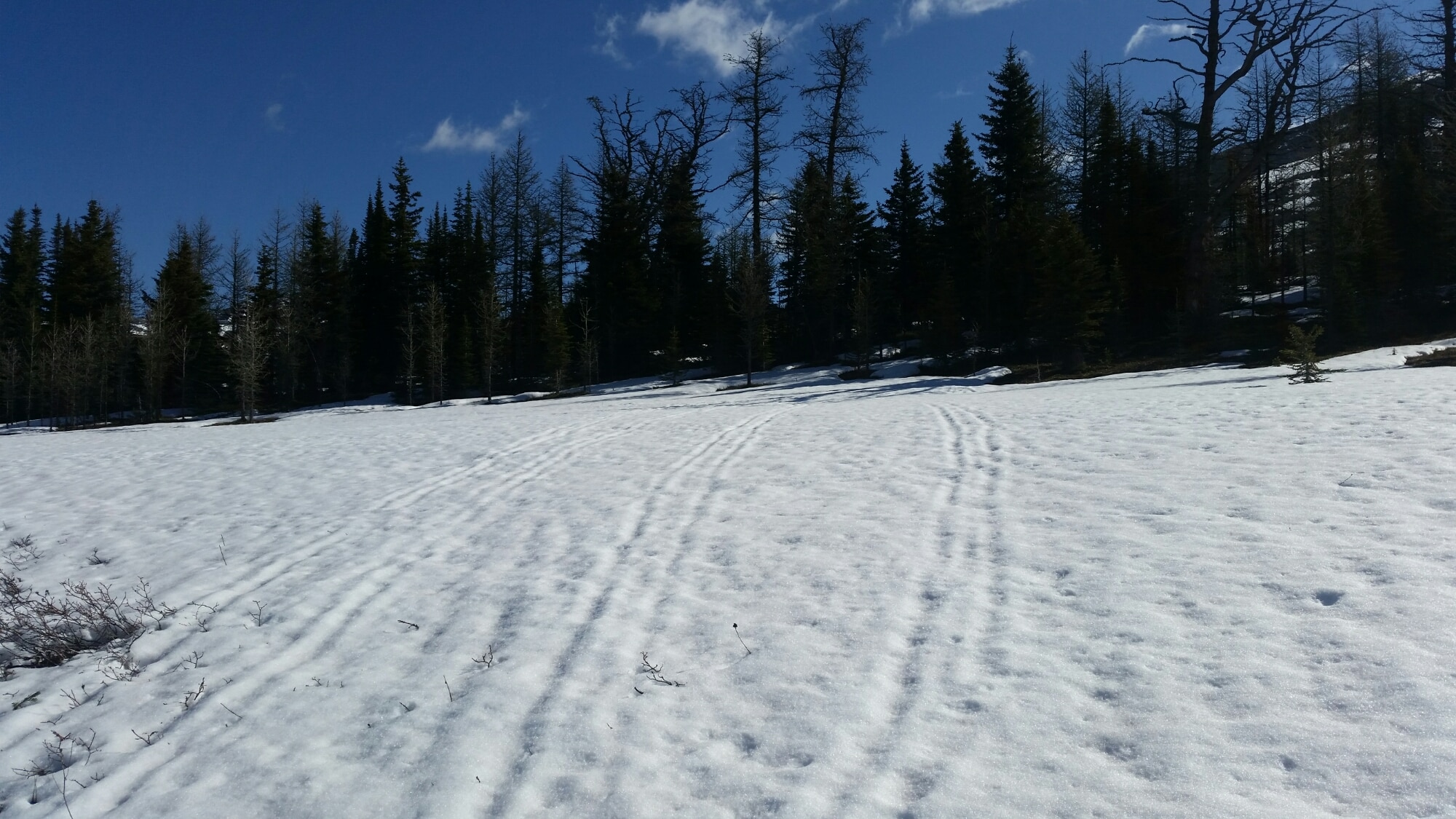 Not quite ski tracks…maybe old ones. Hmm…ski's would be handy right about now.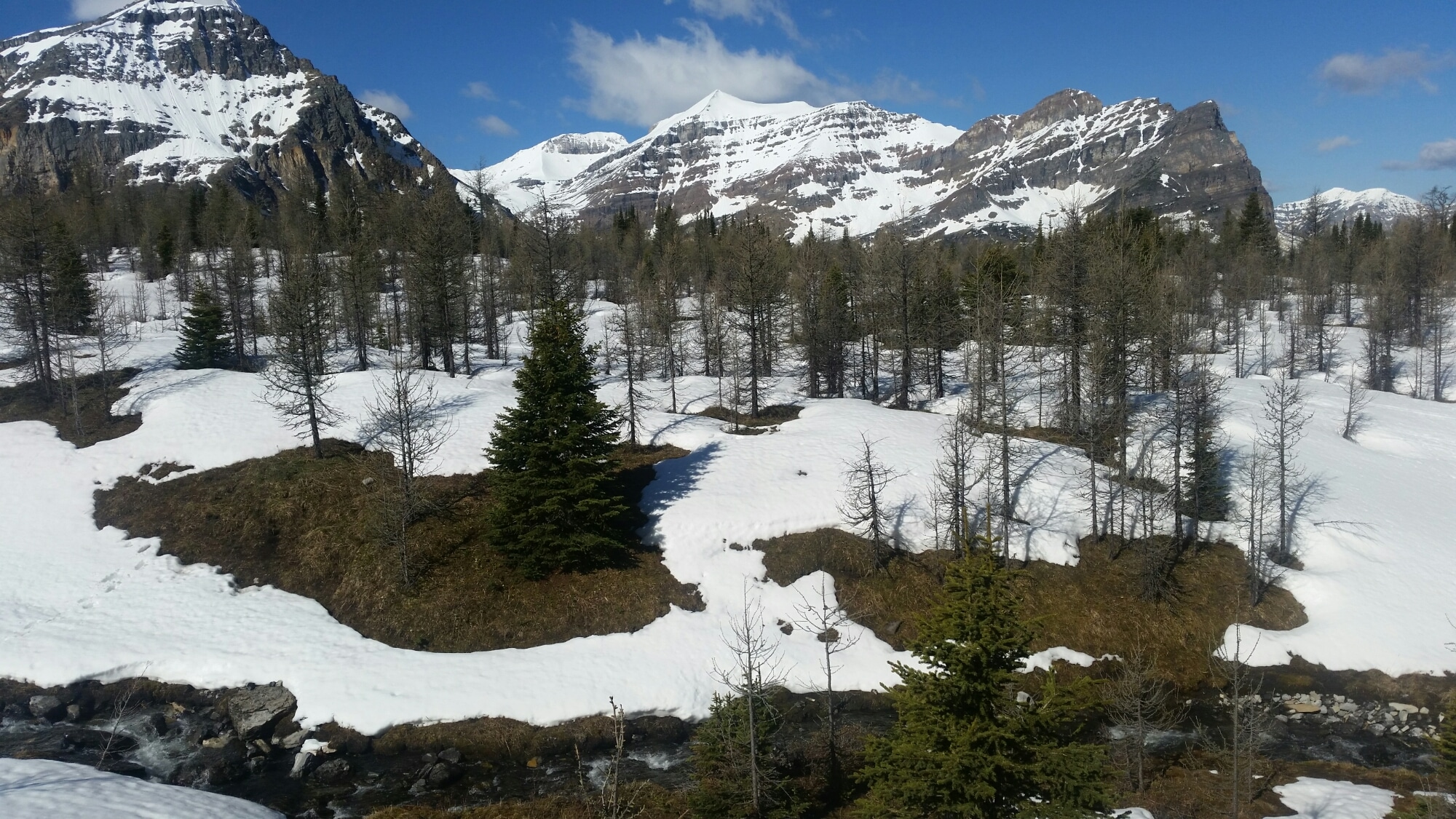 Looking back, tromping through knee-deep snow to get to the patches of clearing, oh look another creek!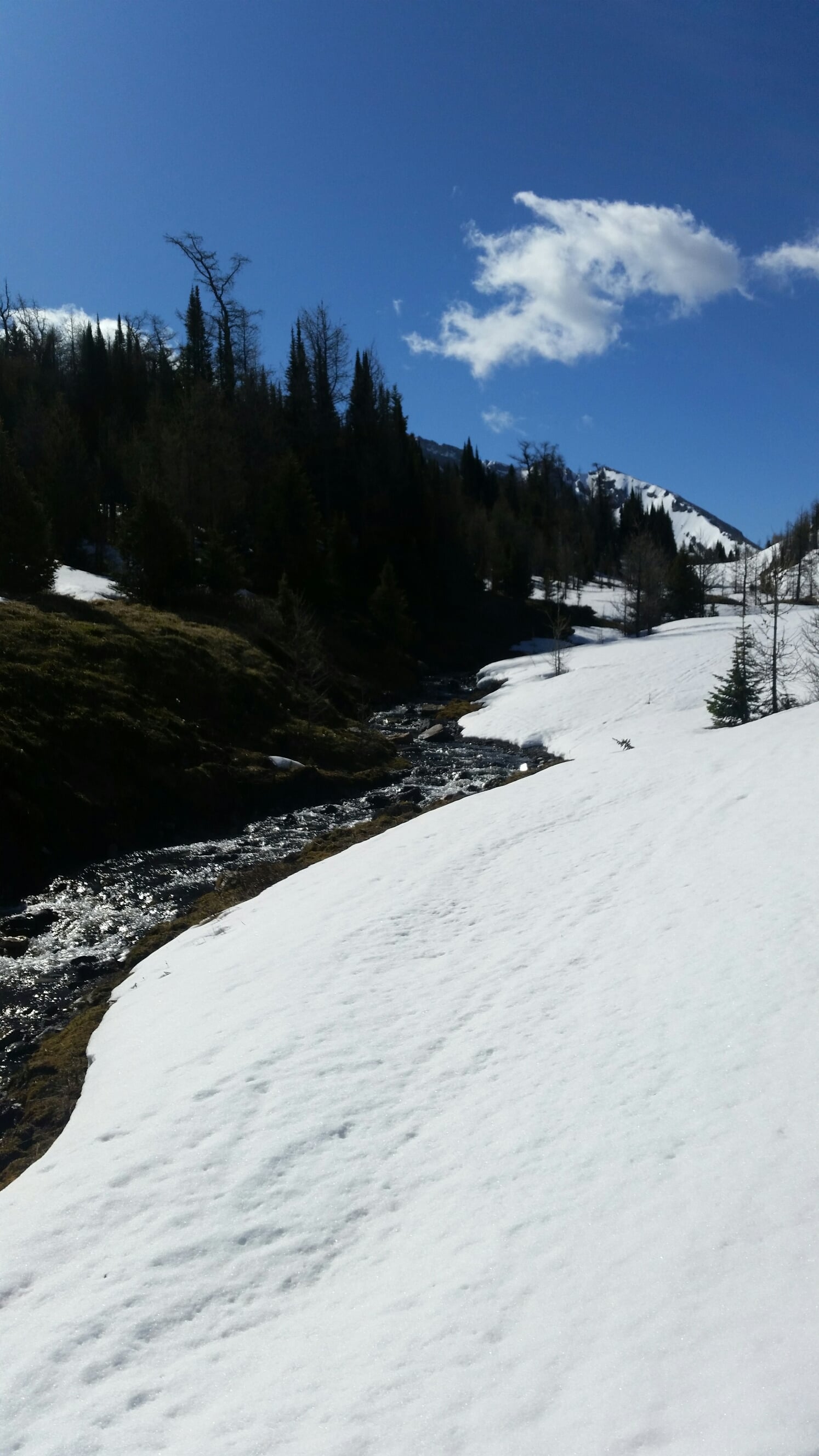 Sun is out, the melt is on.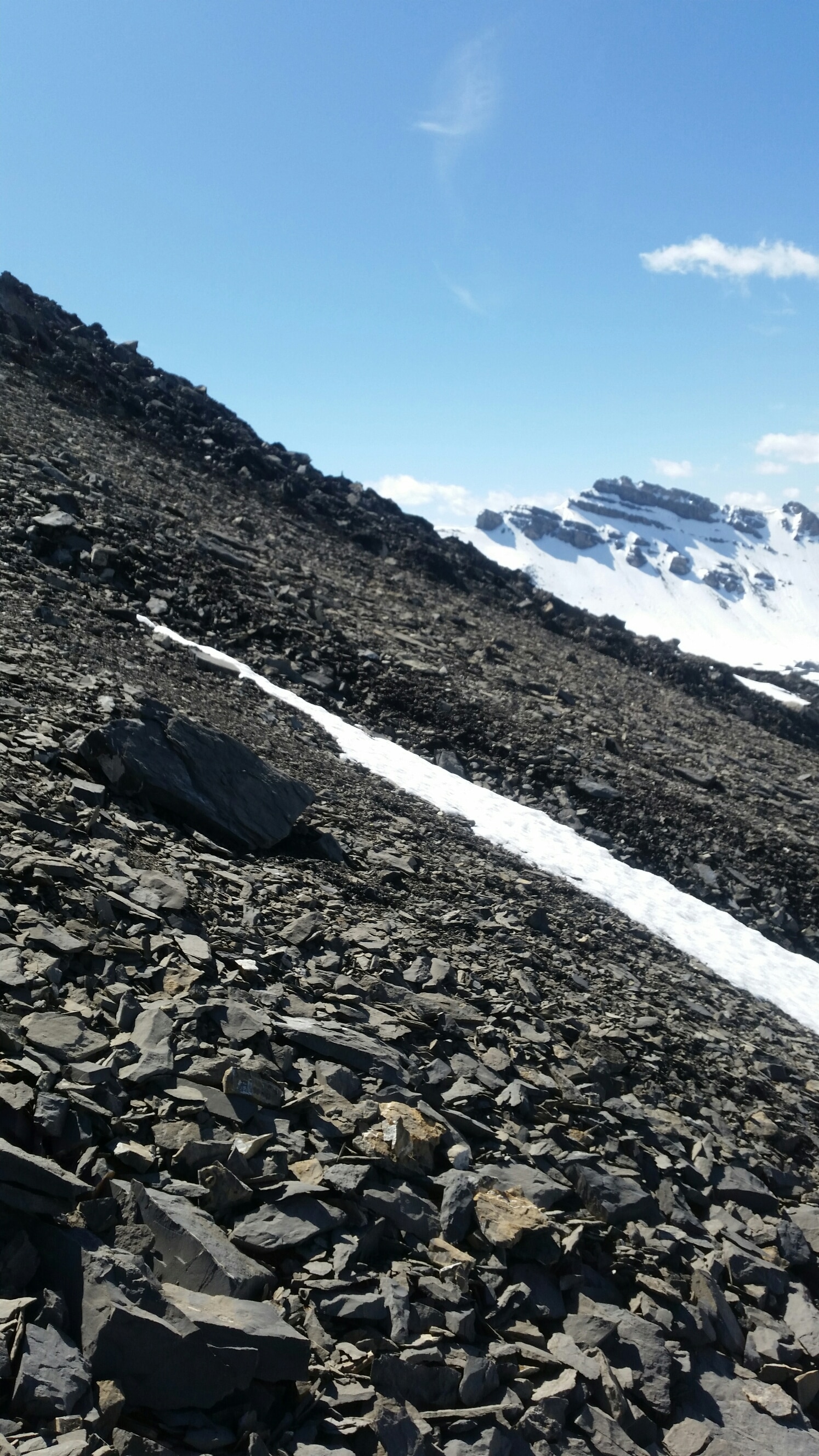 I have some more photos and videos of my accent, it was 90mins through snow and brush to get to the base, the next 90mins was this…steep, rocky and patches of snow to make it more fun.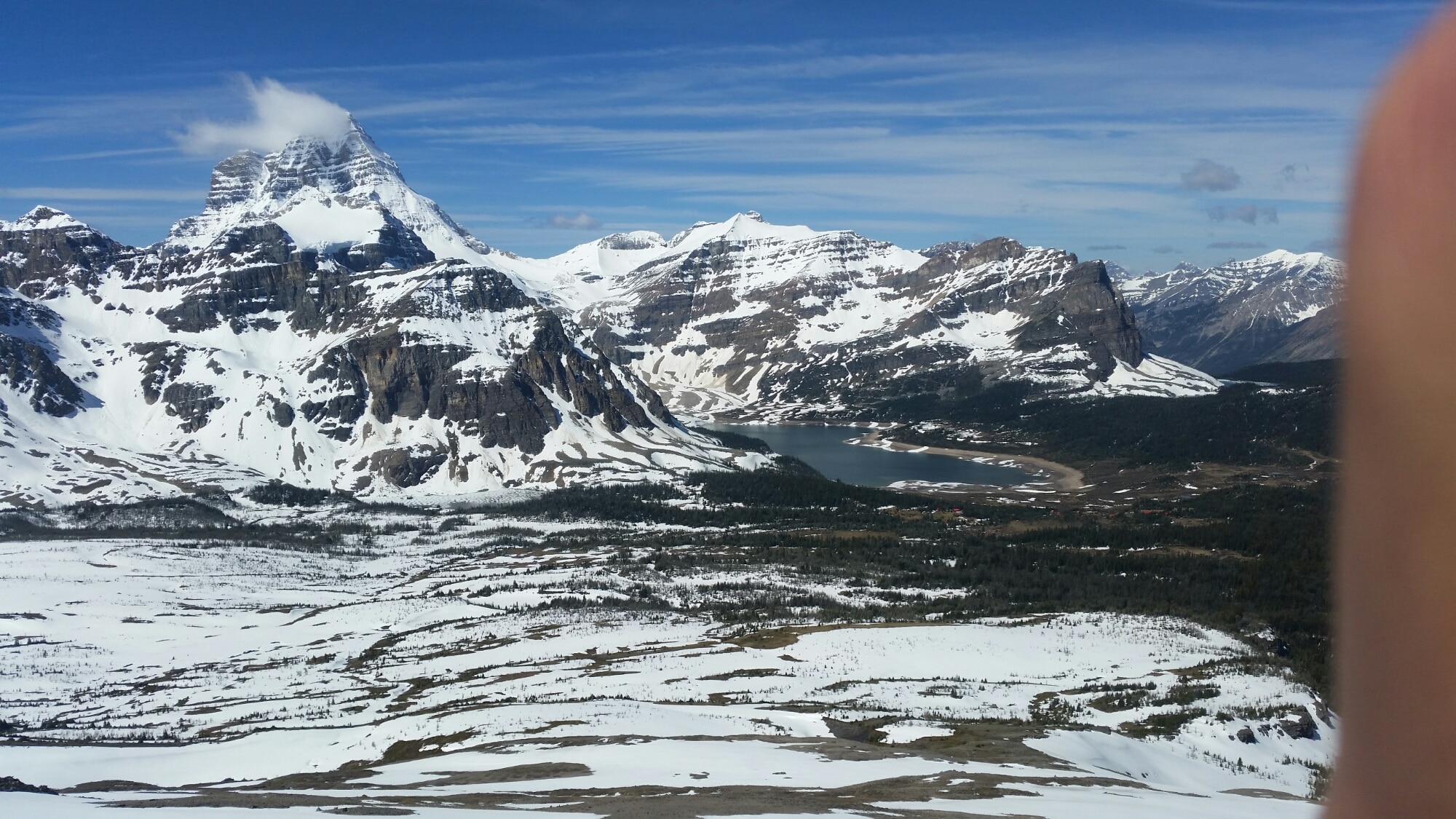 Almost to the shorter peak, looking back down towards the lodges, lake and a great view of Mt.Assiniboine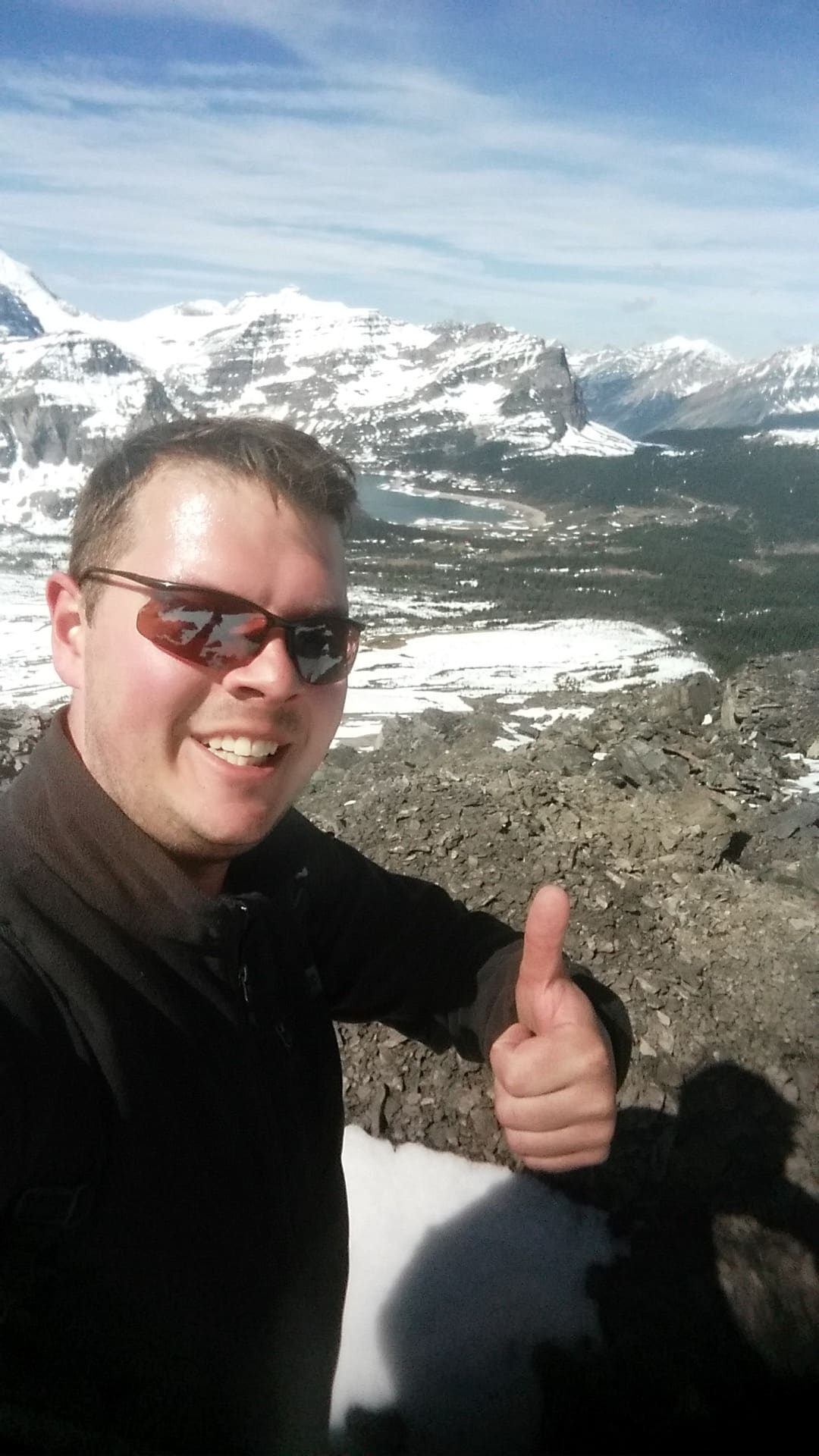 First peak! Thumbs Up!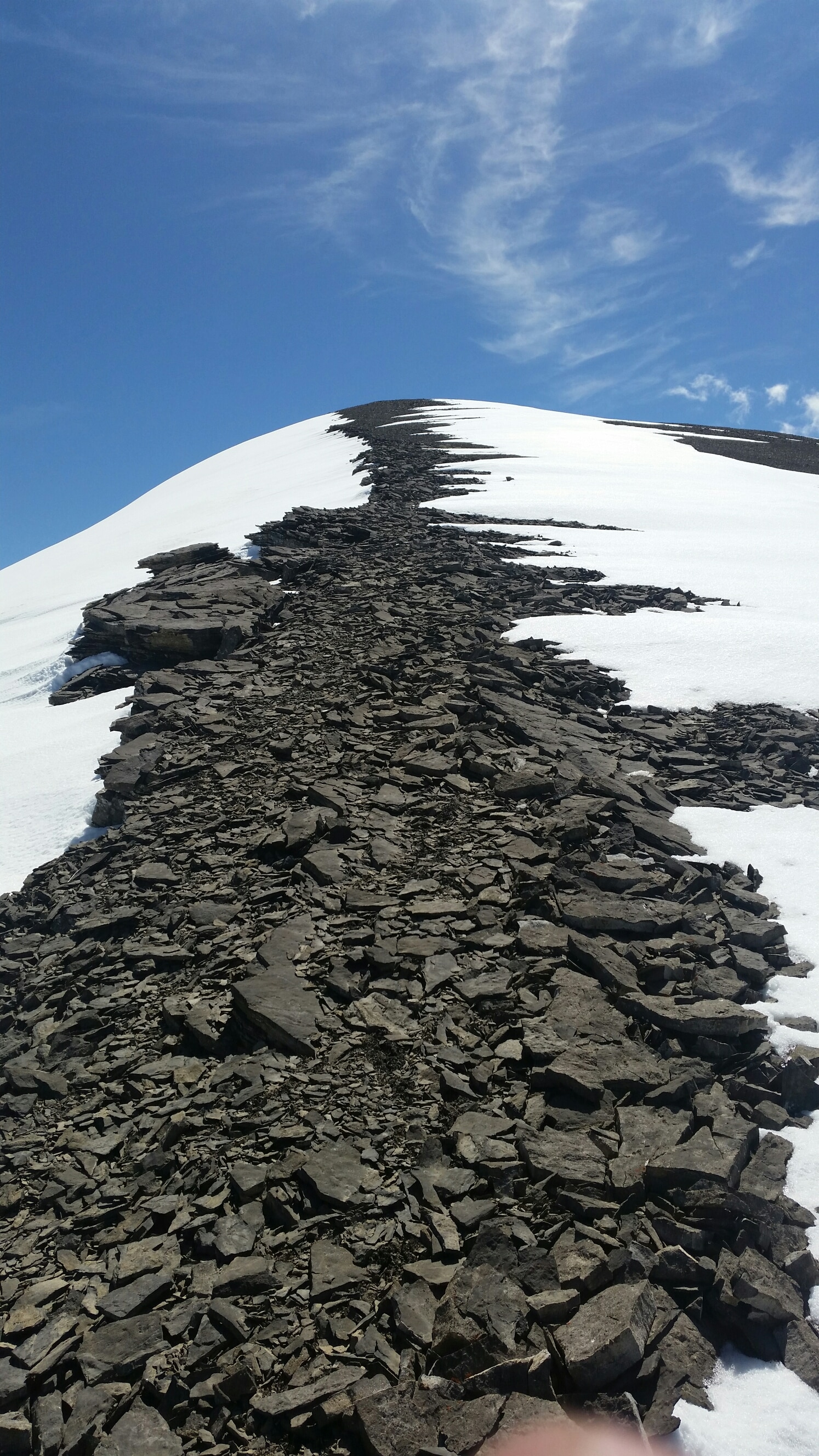 Onward to the summit! Walking the fine line, don't let the snow fool you sheer drop on the left. Also the wind is trying to push me over, ever so strong.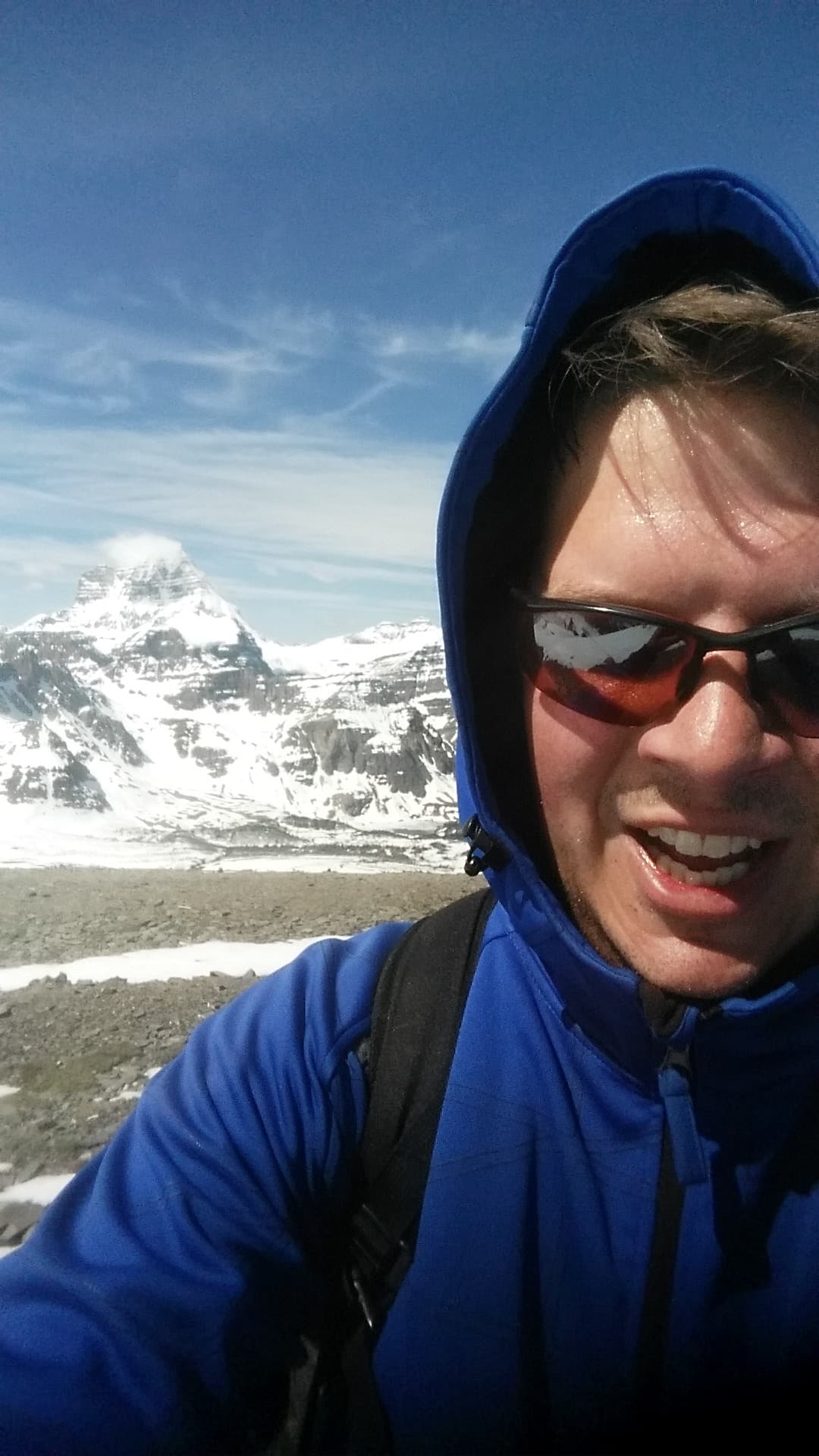 I am a mountain climber! Made it in just under 3 hours. Time for a banana.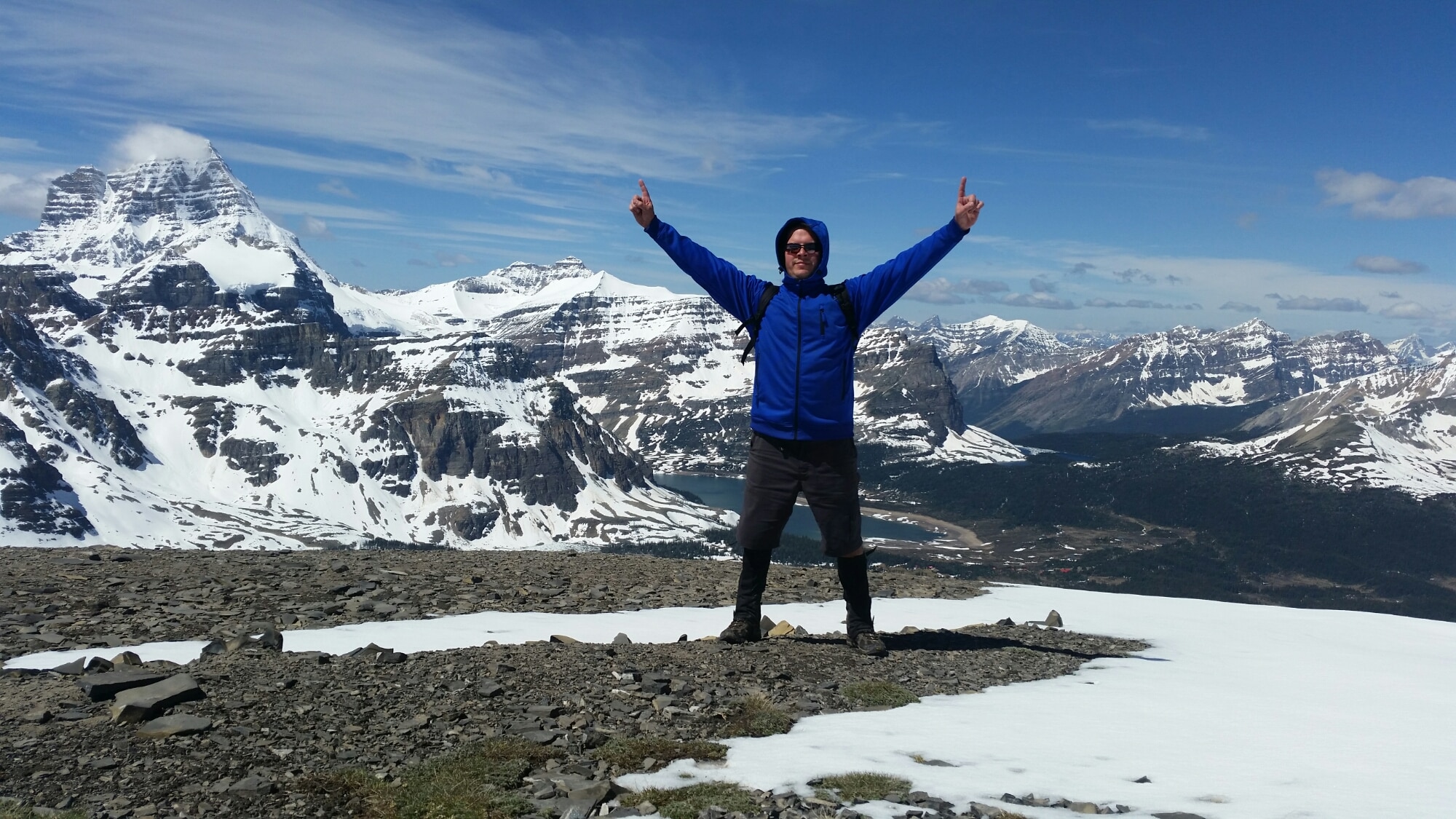 Timer photo, the cairn barely held my camera up from the wind. Oh and mum if you look closely I am wearing shorts 😛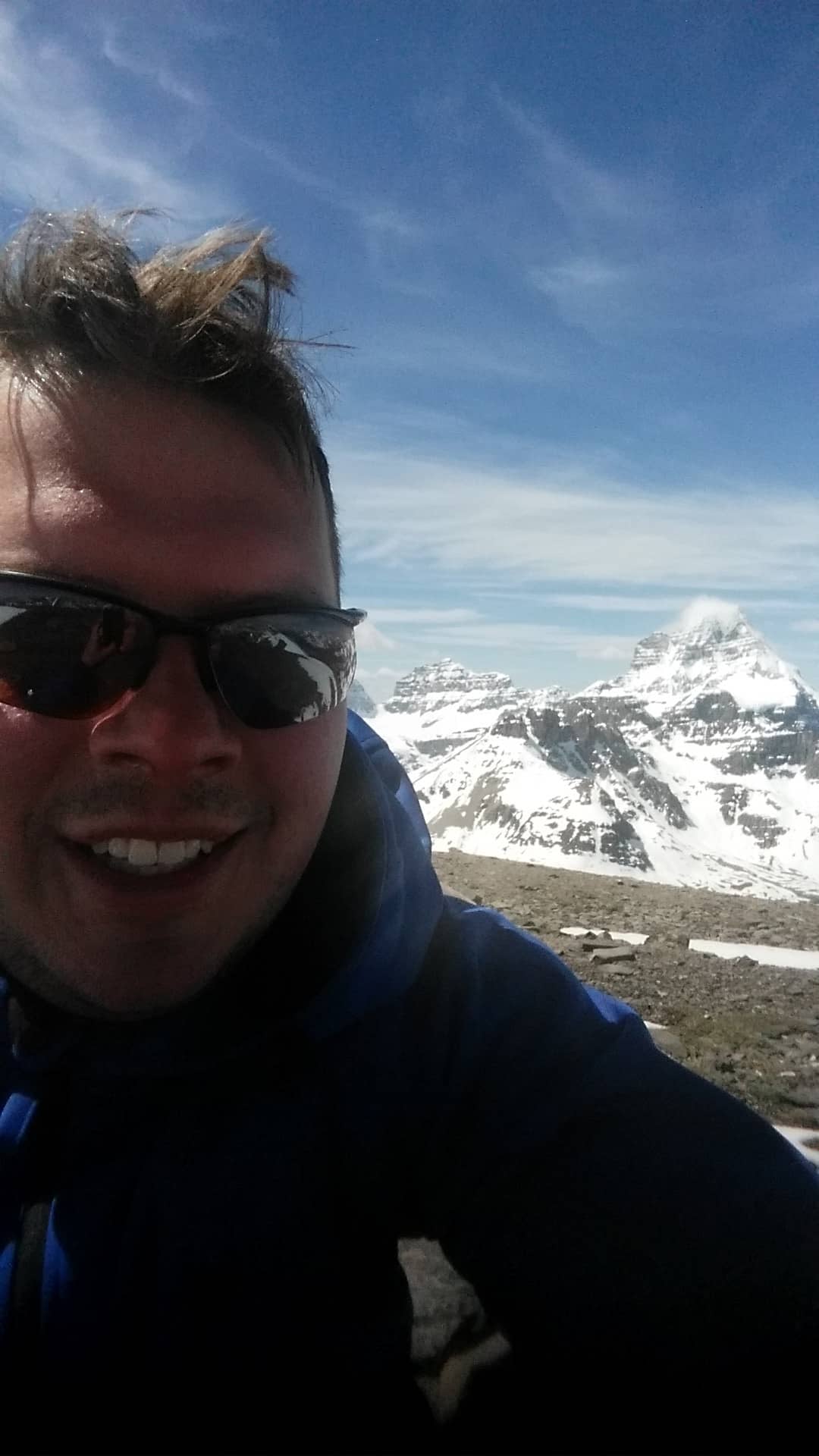 Mountain top photo with Mt.Assiniboine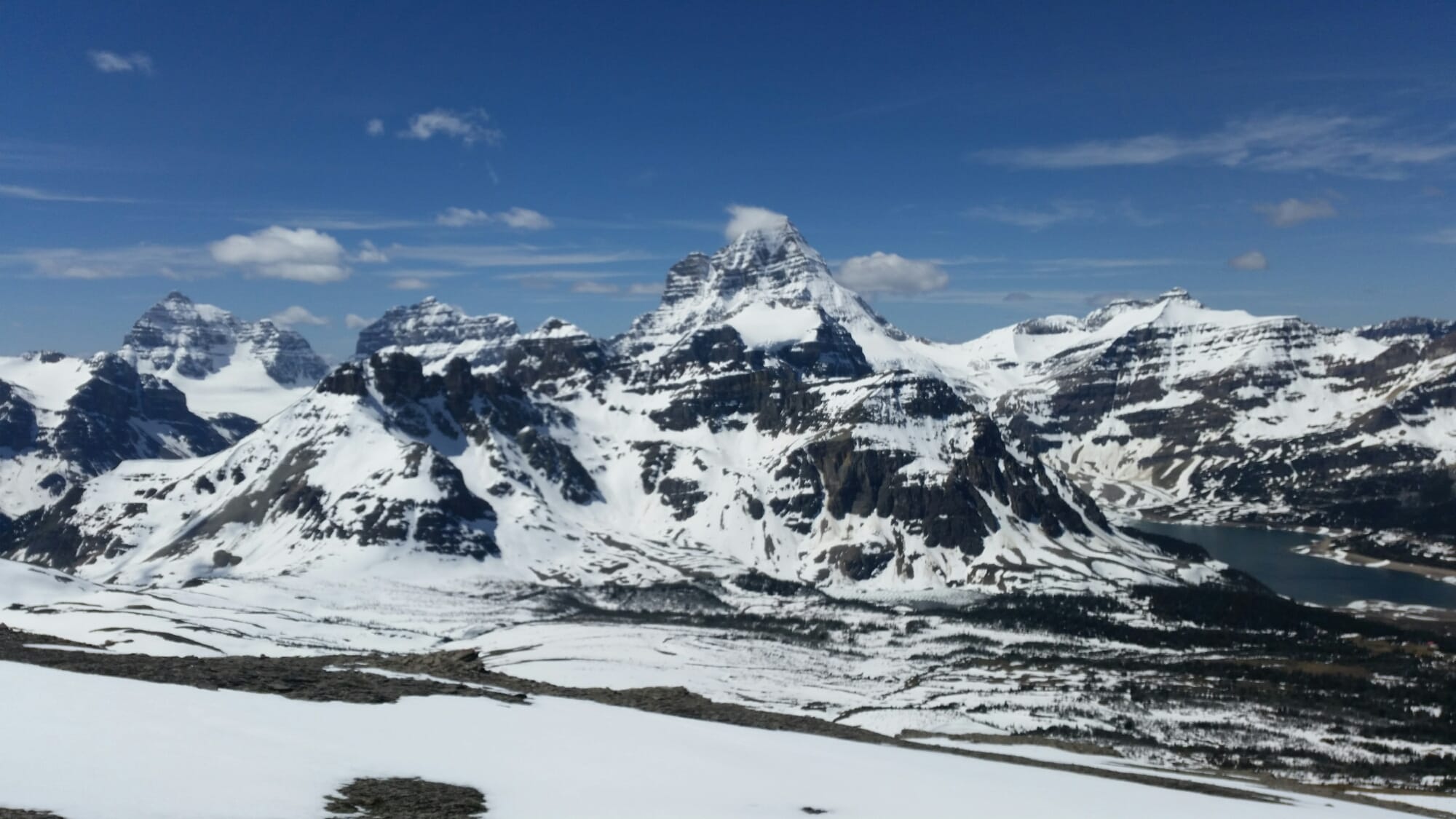 Time to make the way back down, slippery rocks but some cushiony mud and an amazing view.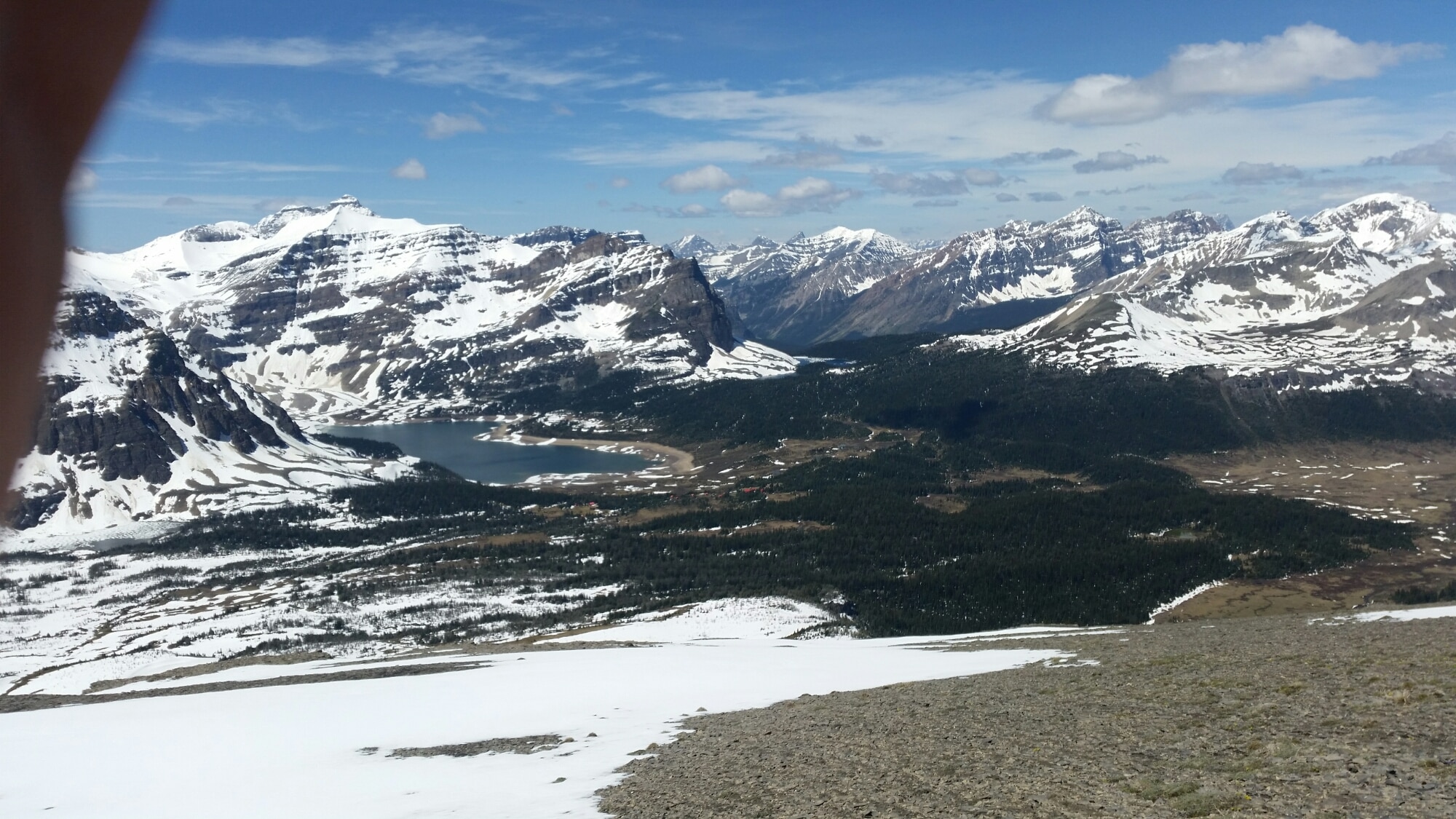 Long way back, it was about half way down when the tendinitis in my left knee began. Slowed me a little and I hobbled back through the snow but made it all the same.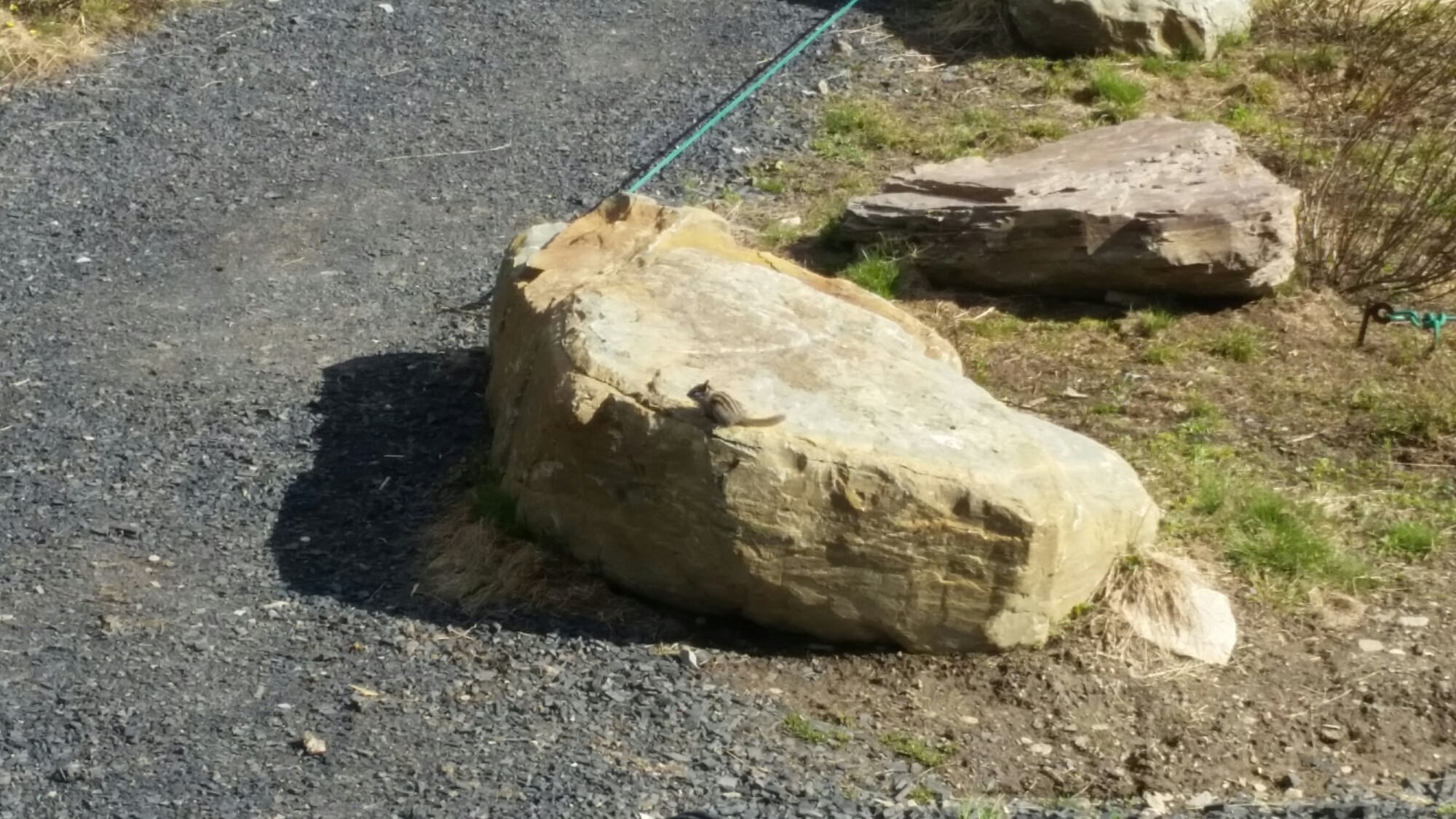 Random photo of a chipmunk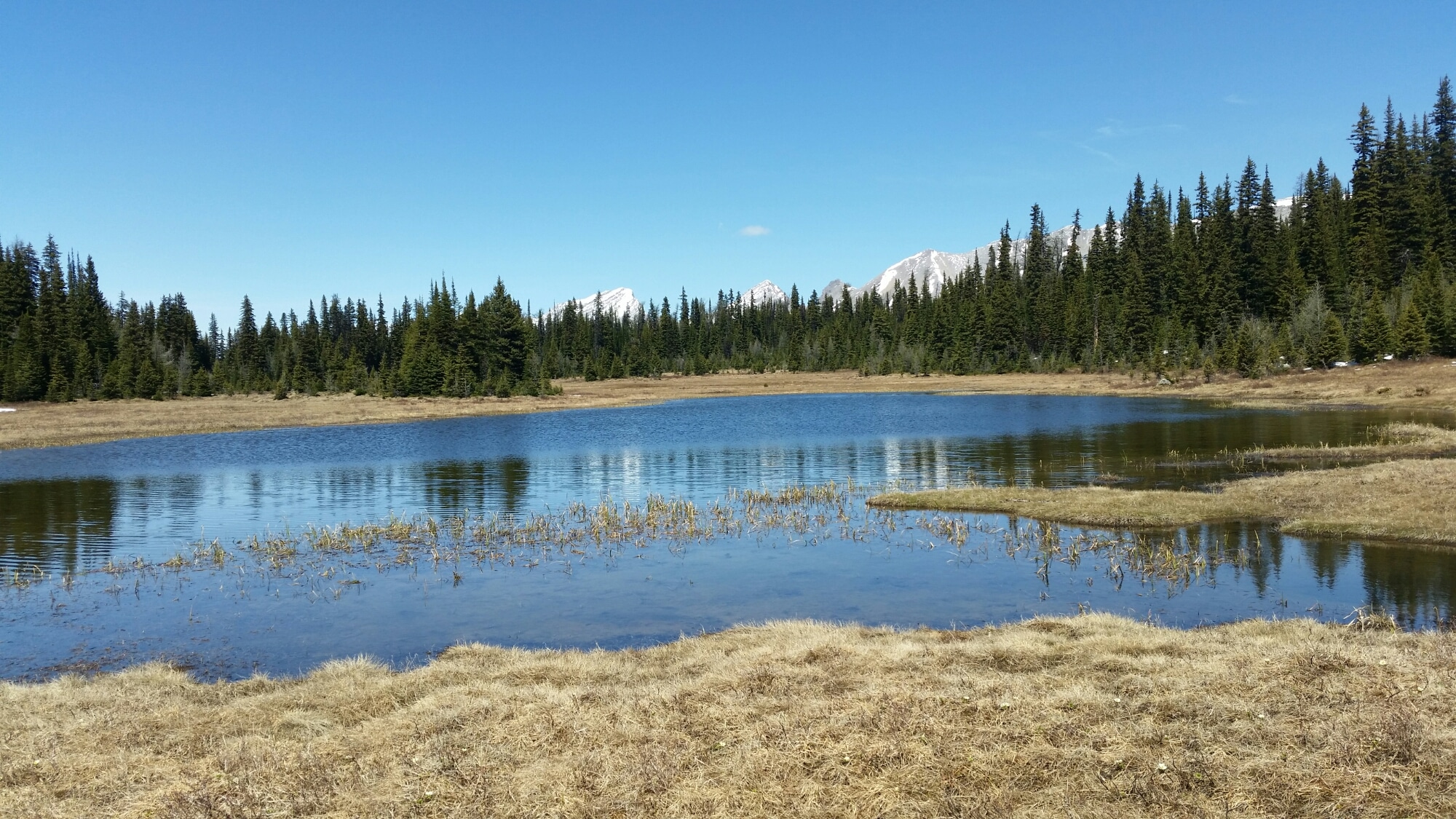 Finally, back to flat terrain.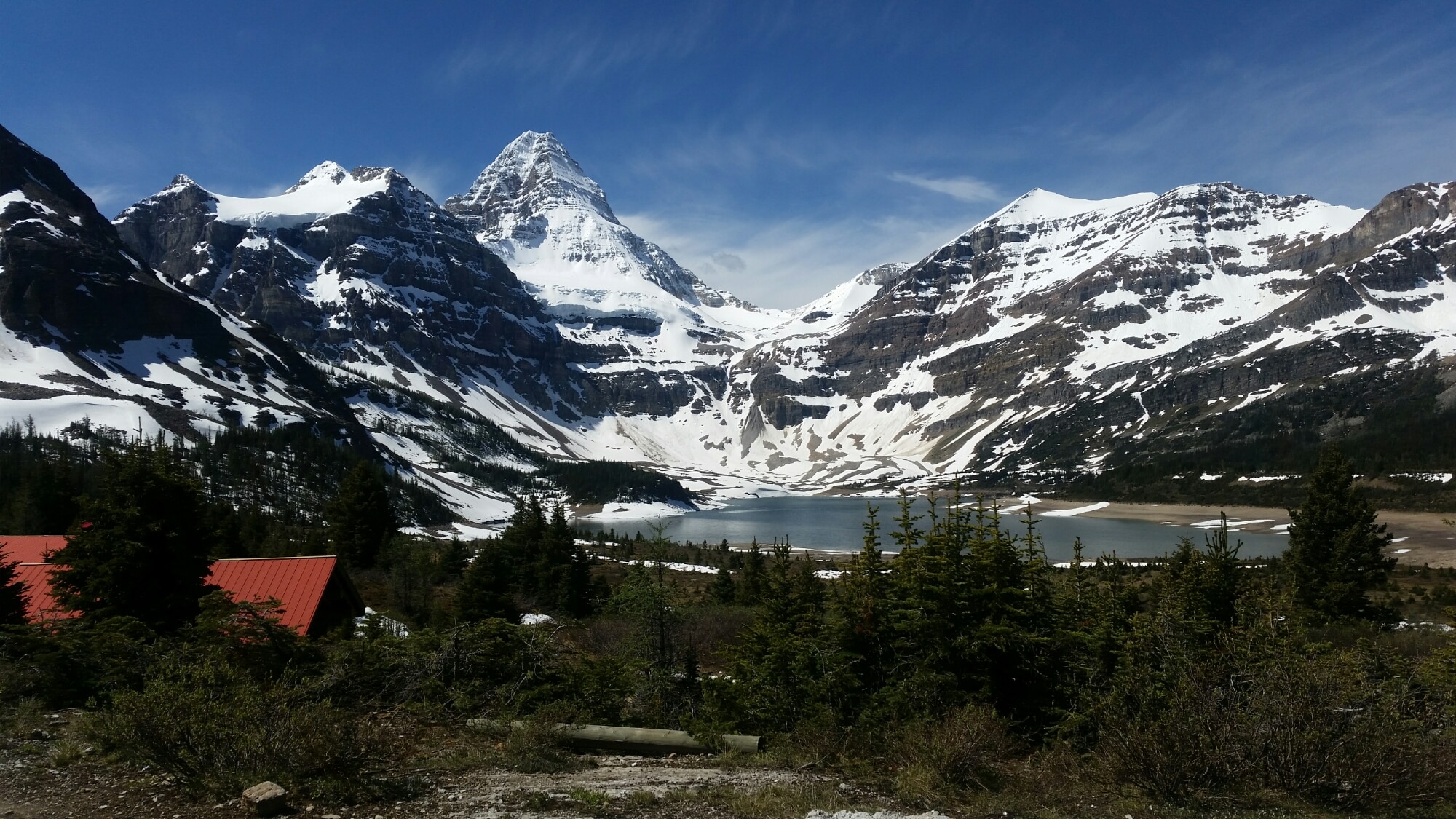 And back to the lodge for some more work on Jonesy's cabin. After we finished up we had beers on the deck of the lodge, looking out at the lake and mountains. Oh, and a BBQ dinner. Flying out tomorrow.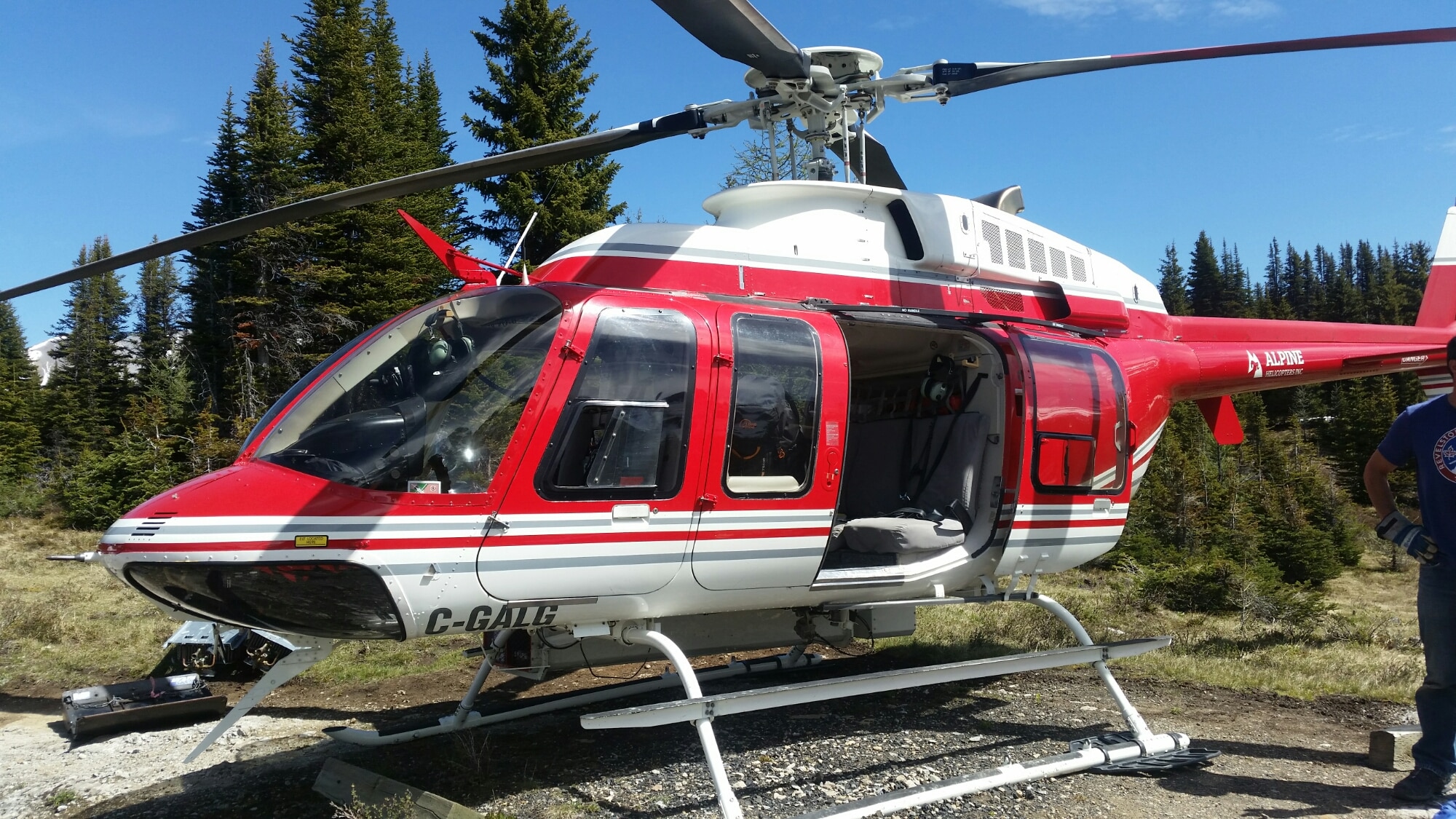 Megan flew Claude and Christian in with some more gear, Andre filled them in on our progress and we loaded up and jumped in for a flight back to civilization leaving Claude and Christian to continue preparations.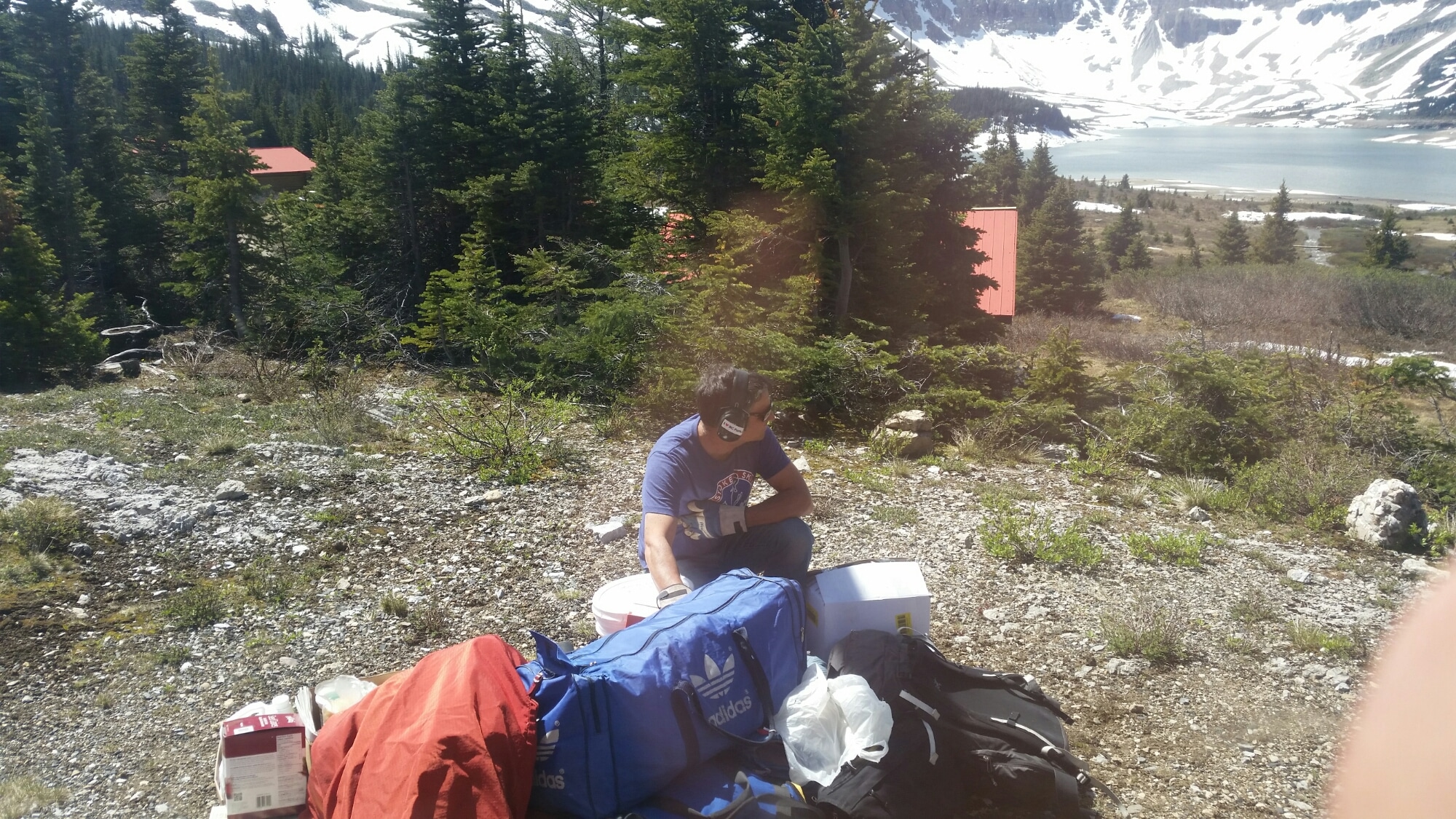 Claude holding down the gear while we take off.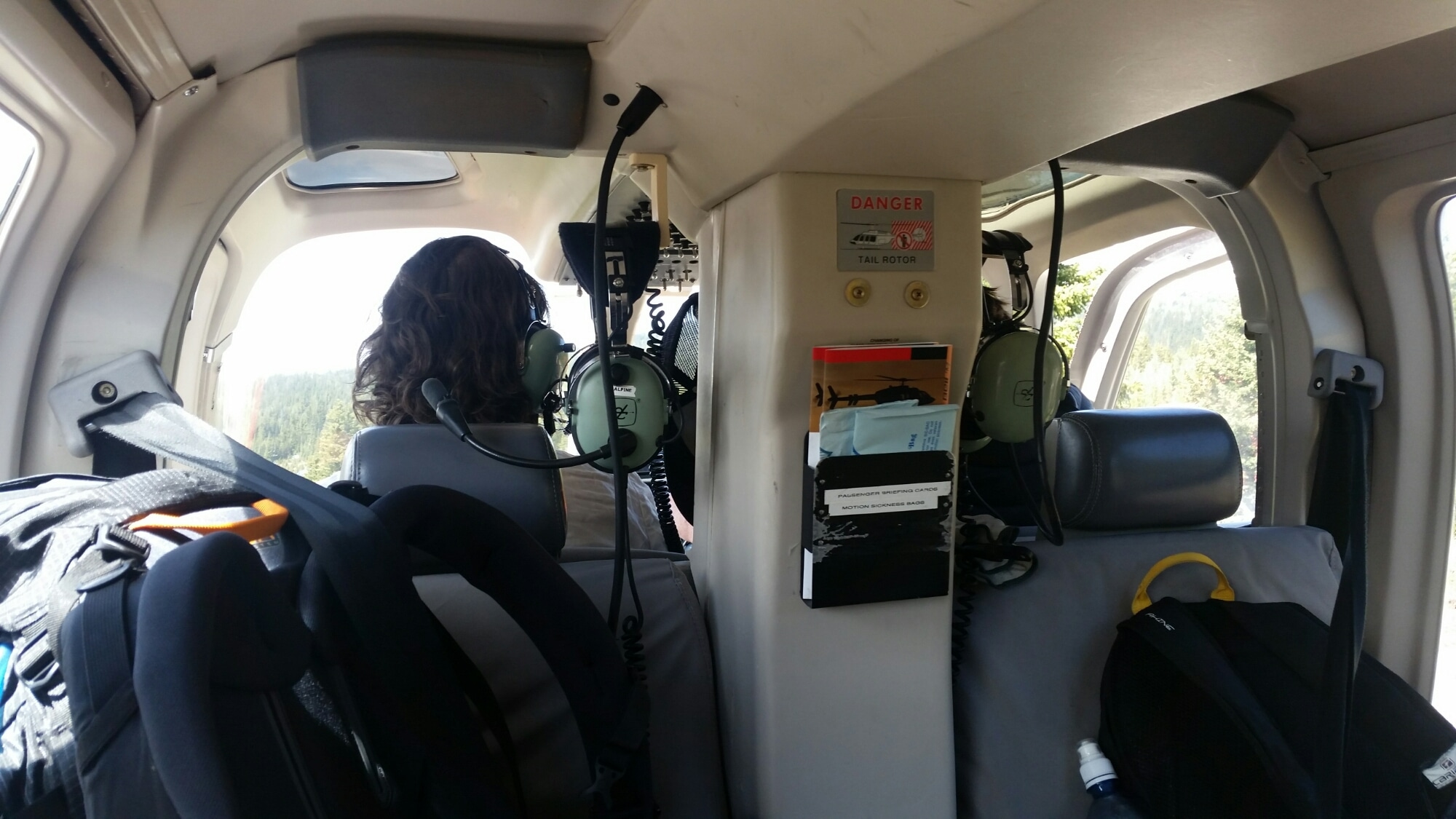 Back seat this time, Megan's friend Jennifer was along for the ride.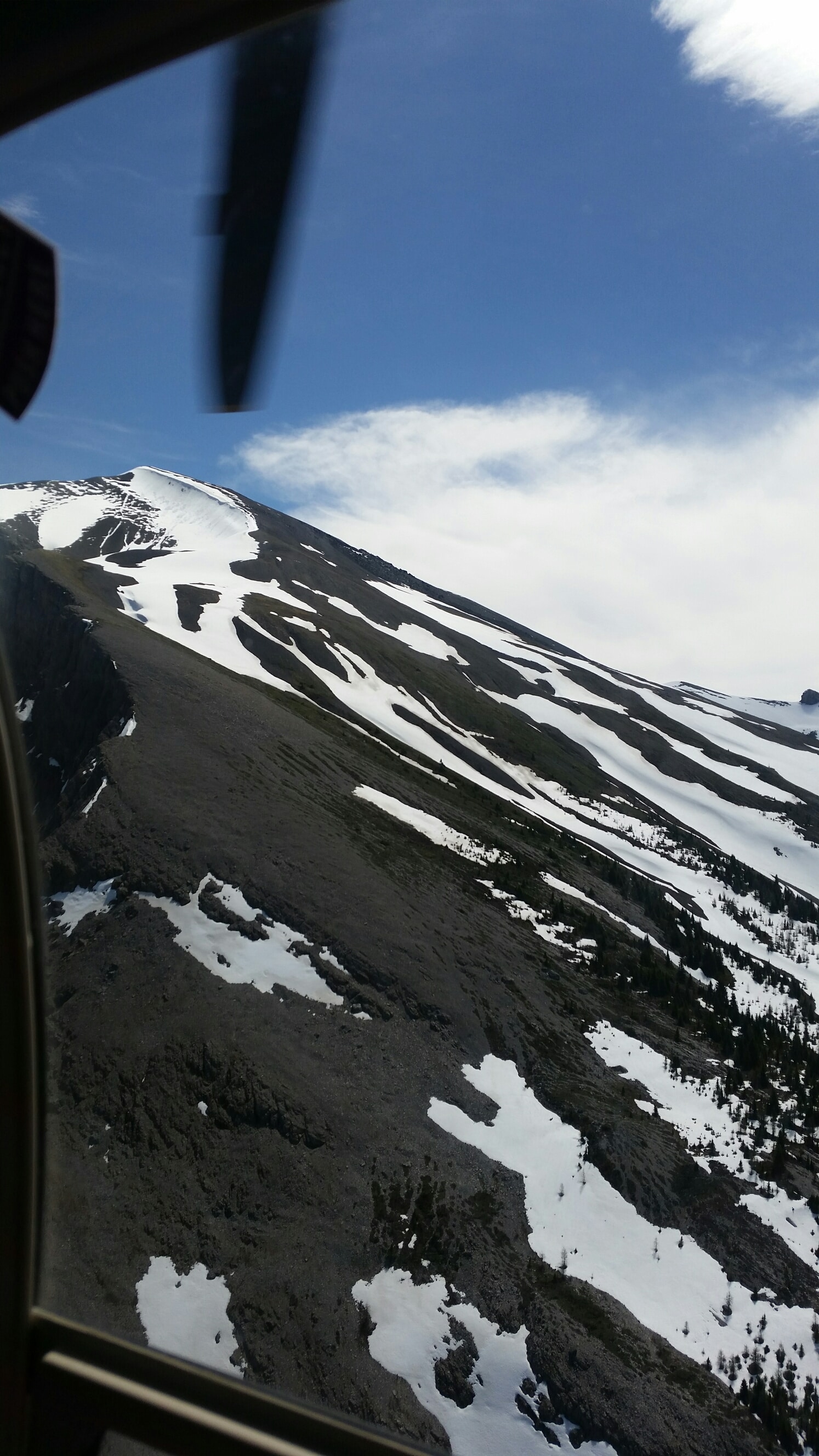 View of Mt.Cautley. Nick 1 – Mountain 0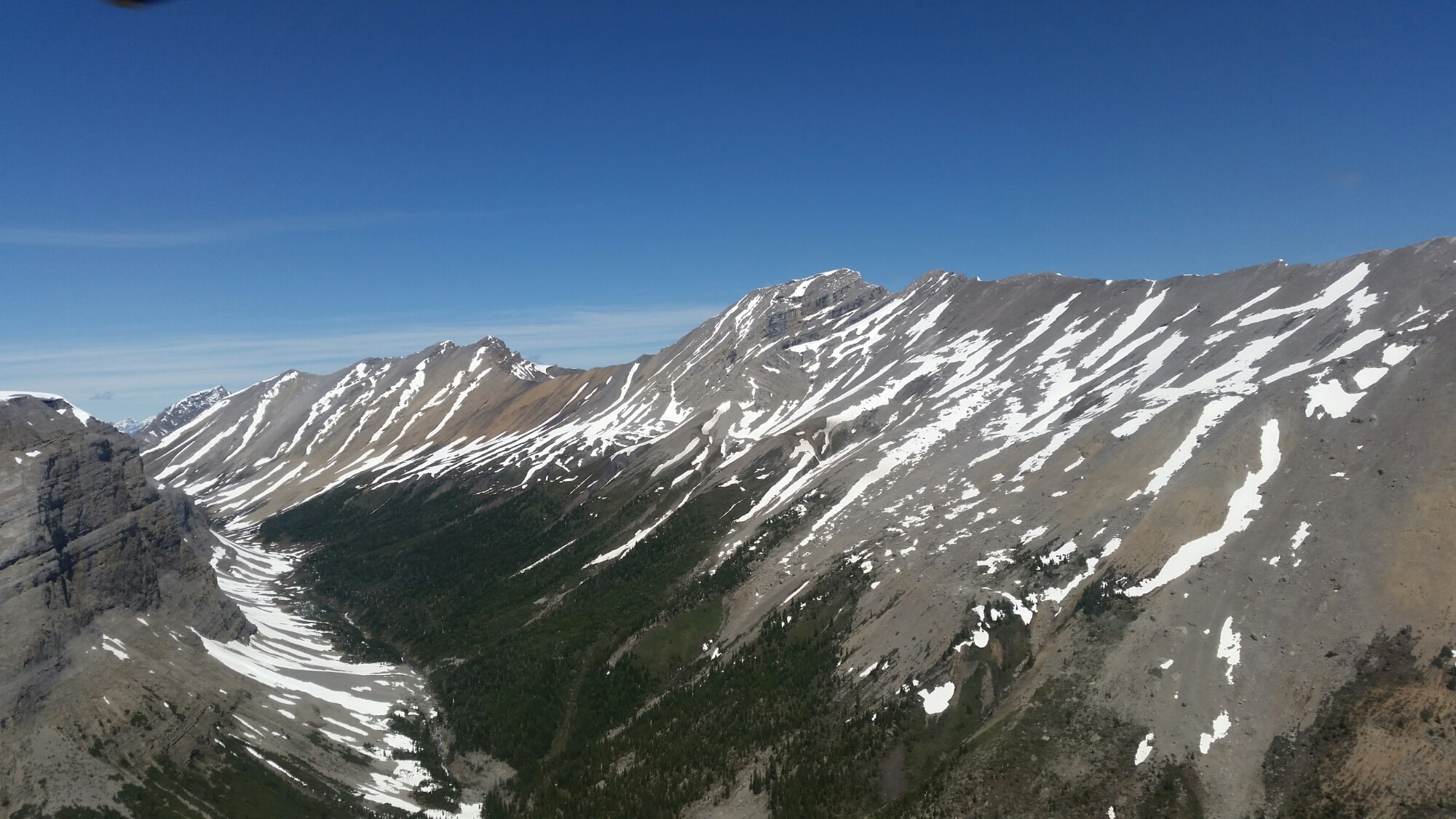 It was a smoother return journey.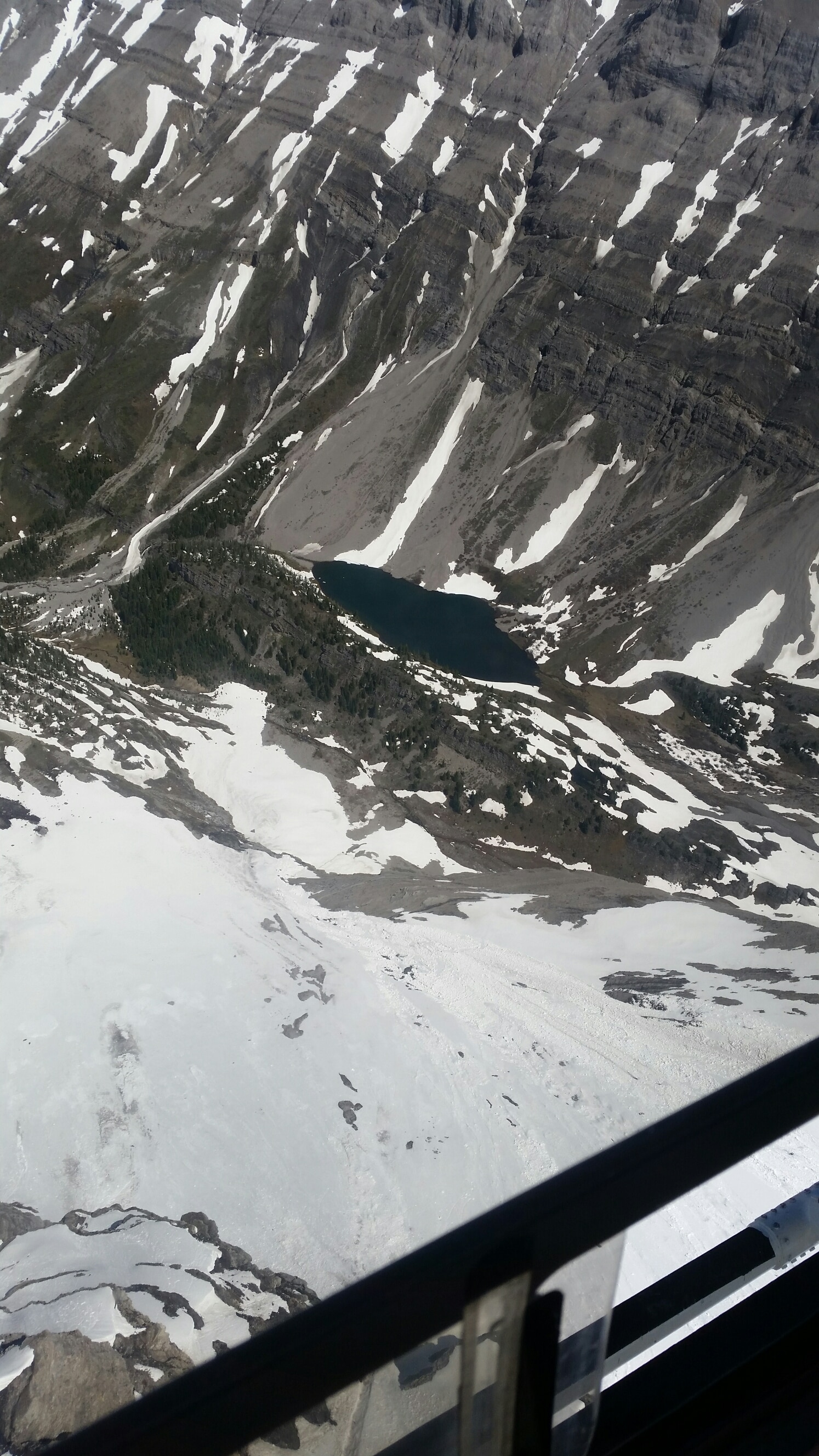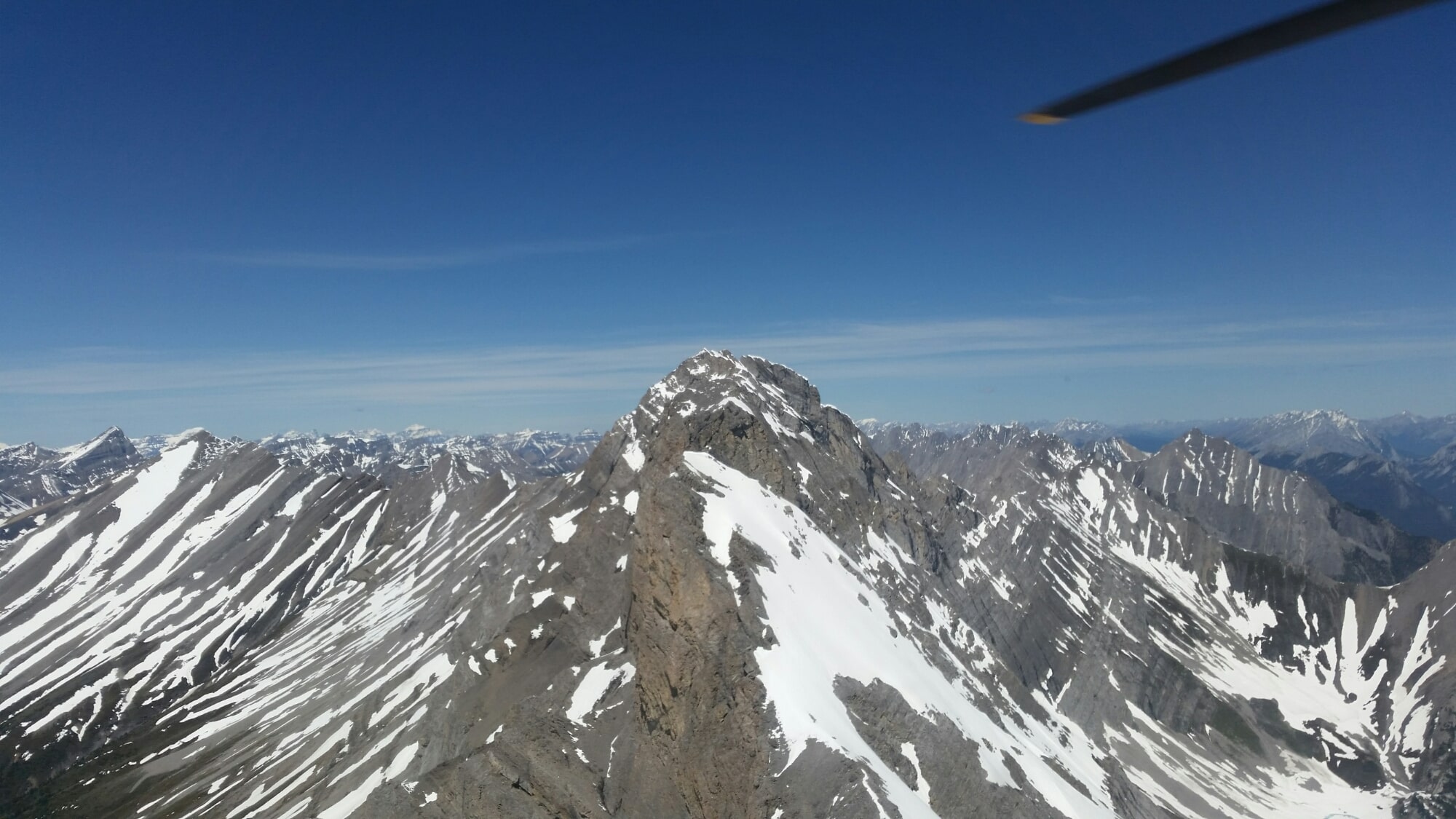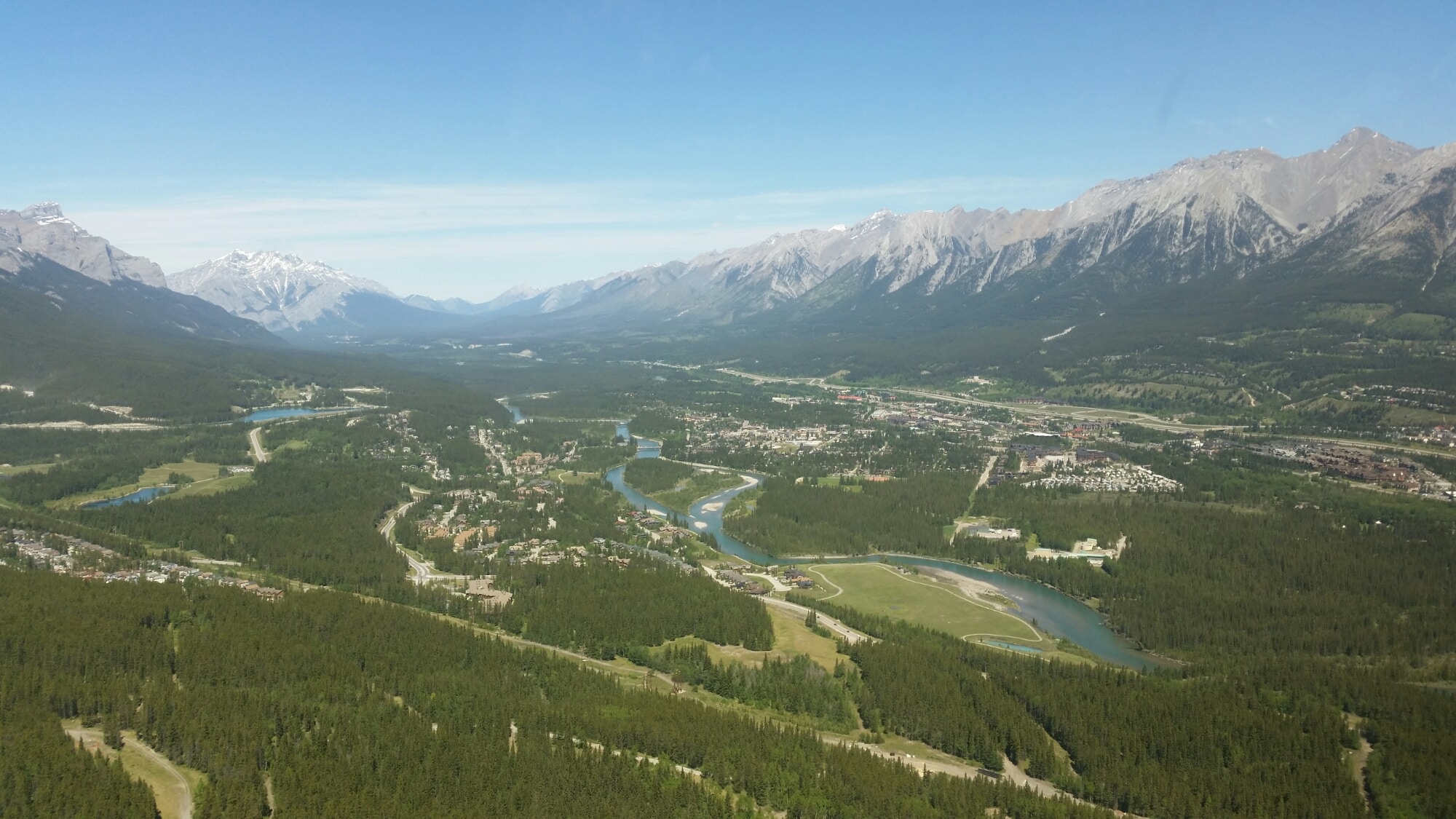 Canmore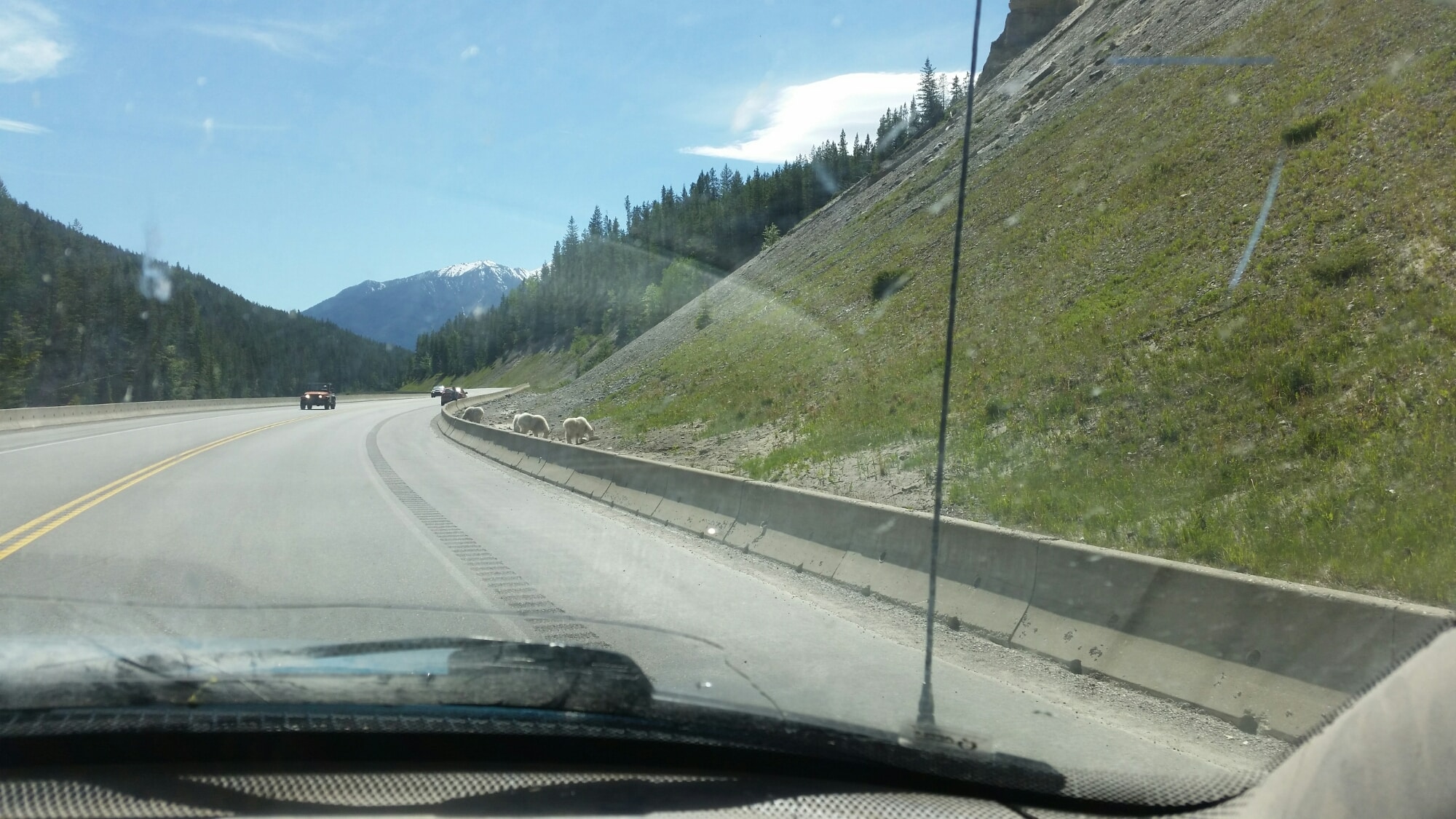 Mountain goats on the drive back to Radium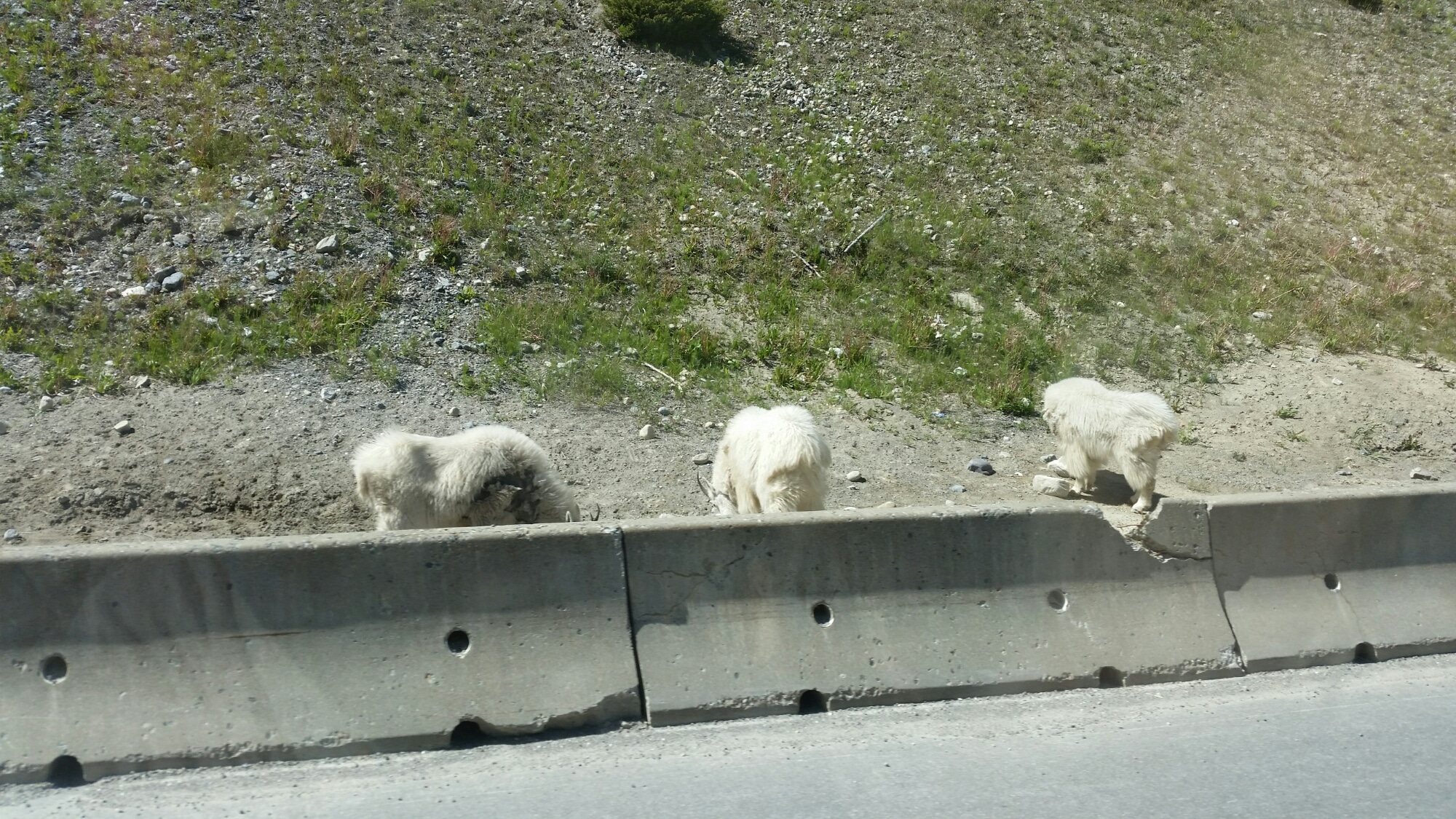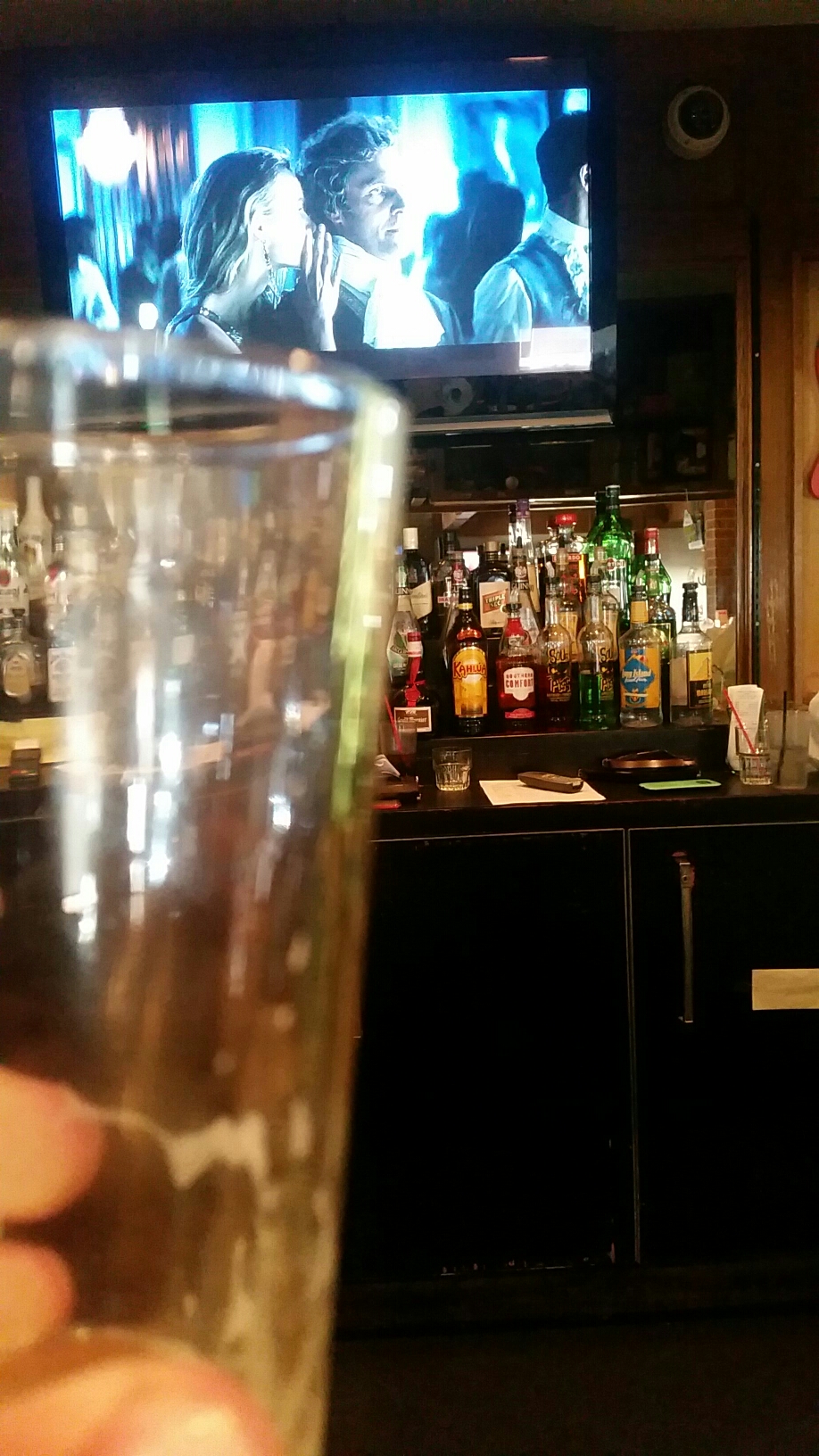 Back in time for beer and hockey at the Horsethief.